Stolen childhood - an African girl's tale of abuse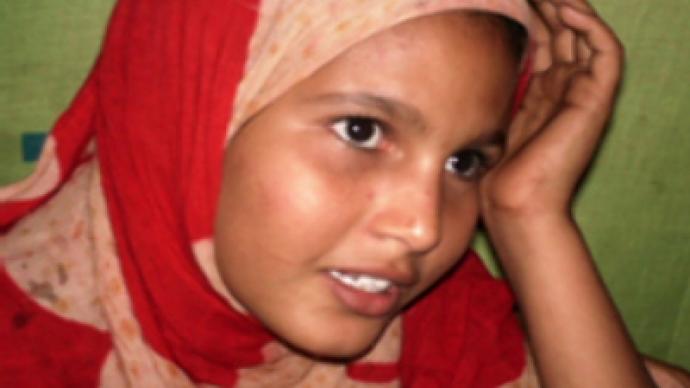 The best place to marry off your daughter is Saudi Arabia. At least, that's the predominant view on the subject in some parts of Mauritania. Here, child marriage turned human trafficking is widely accepted. And, for eight-year-old Oumelkhary Mint Sidi Moh
After losing her mother when she was still a baby, Oumelkhary became the victim of her closest relatives. The girl is the youngest known victim of child rape in Mauritania and she has agreed to tell her story to RT.
Her father remarried soon after her mother's death. His prime concern: to get as much money as possible from selling Oumelkhary. The girl's humiliation started with being force fed. Fatness in Mauritania is a sign of beauty and sexual maturity. After her body gained the shape her father deemed suitable, the worst began.
"My father took me to the city from the remote village where we lived and handed me over to my aunt," Oumelkhary said during her interview.
"She took me to Saudi Arabia where a cousin of mine raped me while I was asleep. They arranged for him to take me back home as his wife as soon as possible. I found myself in his house as a maid. He beat me as soon as my family left".
However, sexual abuse is still very much of a local taboo. Oumelkhary was lucky to have the horrors of her case revealed. Something, which cannot be said for the larger part of Mauritanian sexual abuse victims.
"I told my father about my endless suffering. I was hoping he would end the terrible connection I had with my cousin," Oumelkhary said. "He decided to give me to another aunt, who proved to be kind. That's why I would like to stay here".
Having already suffered at the hands of her close family, Oumelkhary's ordeal was far from over. To cover up the family's disgrace (which results from revealed sexual abuse in this community), the girl's family tried to marry her off once more. Yet again, they attempted to sell her to Saudi Arabia.
Their attempts, however, were impeded by a friend of the family – journalist and human rights activist, Rabie Ould Idomou. He declared himself guardian to Oumelkhary, pointing out that she cannot suffer more disgrace and violence.
"She has to be rehabilitated in equity and tranquility", Rabie said.
Oumelkhary herself just wants to be normal.
"I hope I can play and go to school like all children do. I will never forgive my father and cousin for what they have done. I pray that I'm the last child to go through such pain and humiliation," Oumelkhary confessed.
The legal marriage age in Mauritania is 18, but, according to Aminetou Mint Moctar, the president of "Women Supporting Families", a Mauritanian NGO, the government often turns a blind eye to violations.
"The law is not reinforced to protect the poorest or the ignorant," Mint Moctar noted.
According to estimated UNICEF statistics, more than 14 million children under 18 were forced into marriage in the Sub-Saharan region in 2006 alone.
Anna Bogdanova, RT, with Seyid Ould Seyid, Nouakchott, Mauritania
You can share this story on social media: