'Stalin was like Facebook': Viral ad sparks controversy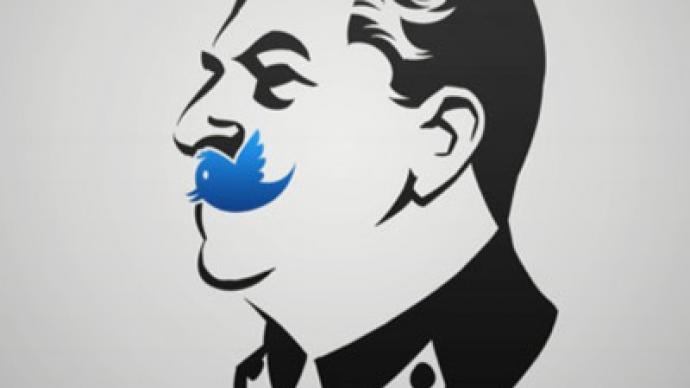 "Stalin was like Facebook: he always wanted you to share information." That is just one of the controversial posters aimed at showing the Internet generation the horrors of Stalin's regime. Others compare him to Twitter and YouTube.
The posters, which were created for the Victims of Illegal Political Repressions Organization, use contemporary social platforms to illustrate to younger generations how much they have, and translate the awful reality of Soviet political repressions into a language they understand and can relate to. The posters draw parallels between popular social networks and typical repressions of Stalinist times, and all provide historical details on this very dark period in Soviet history.The Facebook poster describes how thousands of people regularly snitched on their neighbors, friends and relatives, filing reports with the NKVD or Secret Police. In the two years of the worst oppressions, from 1937 to 1938, the NKVD was flooded with so many reports, they physically couldn't handle them. A similar poster comparing the Soviet dictator to YouTube plays on the Russian words for "upload" and "send", saying that Stalin let people get picked up and sent off. During the period of the Great Purge, known as Yezhovshchina in Russia (after the head of the Secret Police, Nikolay Yezhov), millions were sent off to labor camps and left to rot in Siberia. Their families were evaluated, and if deemed 'capable of anti-Soviet actions', they too were packed off to the camps, travelling for months in freight trains, like cattle.The project started as a graduation work for communications studies student Ilya Tekhlikidi, who chose the Victims of Illegal Political Repressions Organization because of his own family history. His great-grandfather was executed by firing squad in 1937, and his great-grandmother and her children survived three labor camps. After doing some research, he came across an artist who has become famous in Russia for doing similar style prints and posting them online. The artist, known as Nox-13, and the student worked together to create the posters. As part of the project, Mr Tekhlikidi also did a social survey, asking random youngsters whether they knew much about the Great Purge. To his surprise, very few people knew of the repressions, and practically no one understood the magnitude of the horrors of that time.The project was posted online and printed by several Russian magazines – and has caused great controversy. It's sparked heated Internet debates, with many criticizing Tekhlikidi for creating something "shameful" and "tasteless". Others disagree, saying it's an acceptable way of reaching a certain audience, and it's better to have projects like these than nothing at all.