St Petersburg boy named after Iranian president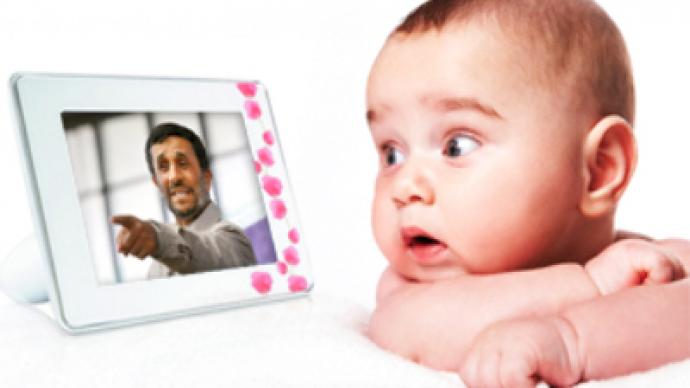 A couple from Russia's 'northern capital' has named their newborn son Mahmoudahmadinejad, after the Iranian President Mahmoud Ahmadinejad.
The baby is the sixth child to be born in the Muslim family, the father a native of Bangladesh and the mother a Russian citizen.
The Interfax news agency writes that authorities in St. Petersburg didn't object to such an unusual name and have issued a birth certificate to little Mahmoudahmadinejad.
Rinat Valiyev, the head of a local Islamic organization 'Mecca', said the mother "likes the policy, intellect and benevolence of the Iranian president".
"If we had to move anywhere, I wouldn't mind living in Iran. There's stability there and the president of the country is afraid of no one but of Allah," she added.
It's not the first time that parents have been a bit too creative when looking for unusual names for their children, which sometimes makes others laugh, at the very least.
Children named after days of the week, famous brands, comic book characters, footballers, celebs, and fruit live all over the planet.
Moscow authorities, for instance, recognized Dolphin' and 'Viagra'. But registering a boy whose name is a series of digits was a bit too much.
Sounding like 'Boch' in Russian, the seven-year-old child's name in English reads as 'BOH dVF 260602', which is an abbreviation of 'Biological Object Human descendant of the Voronins and Frolovs (the parents' surnames) born on June 26, 2002'.
Thanks to the parent's creativity or the administration's inflexibility, the boy still has no birth certificate, registration or insurance.
British authorities are more relaxed about new trends. Last year, George Garratt from Glastonbury changed his name to Captain Fantastic Faster Than Superman Spiderman Batman Wolverine The Hulk And The Flash Combined.
And New Jersey has its four-year old… Adolf Hitler.
Some say a name also reflects the fate of a person. And probably it's not that important, what's written on one's birth certificate, as long as the person is happy.
You can share this story on social media: