Huge sulfuric acid spill in Urals as at least 12 tanks derailed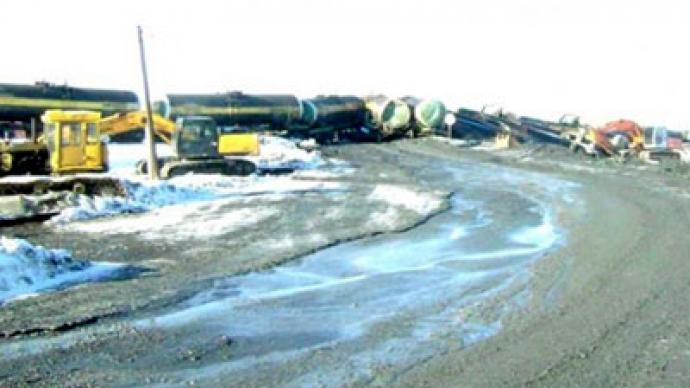 At least a dozen tanks carrying sulfuric acid derailed on a line at a plant in the Urals. The acid spilled over an area of some 100 square meters.
The acid escaped through the tanks' valves as part of the train cars overturned in the Sverdlovsk region, said the spokesman of the regional Ministry of Emergency Situations. "There was a spill of sulfuric acid, but there is no threat to residents as the nearest homes are 20 kilometers away from the scene," Valery Gorelykh said.The incident happened on Sunday at about 4 pm Moscow time (12 GMT at the "Sredneuralskiy copper smelter" in the town of Revda). Measures are being taken to tackle the consequences of the accident. Sorbent has been used to neutralize the sulfuric acid, Gorelykh said. 27 emergency rescuers and 57 employees of the plant are operating at the site.  10 vehicles are involved in the process.The exact number of tanks and the contamination of the area is still unclear. Earlier RIA Novosti news agency reported citing the emergency representatives at the site, that 15 tanks derailed and spilled acid on an area of 1,000 square meters.Meanwhile, the Federal Service of the consumer's rights reported that the acid spilled from two derailed cars on an area of 500 square meters. The agency sent experts to examine the level of contamination in the area. The plant is still operational and there has been no evacuation of personnel, as no health risks are present, according to the ministry. A previous major accident involving sulfuric acid happened in the Sverdlovsk region in November 2010 when two cargo train cars collided causing a spill at the Yekaterinburg- Sortirovochniy railway station.  The area of the contaminated soil was 105 square meters. Smaller incidents involving acid are quite frequent.Sulfuric acid is a very aggressive substance. Human exposure affects the respiratory tract and skin causing burns. Penetrating into the soil sulfuric acid dissolves easily in water and evaporates. The acid contamination of soil causes the increase of heavy metals in ground waters which can be toxic to the environment.
You can share this story on social media: