Booze blues: Spanish MPs under fire for Parliament's publicly subsidized meals and drinks
Published time: 6 Jun, 2013 07:14
Edited time: 6 Jun, 2013 12:21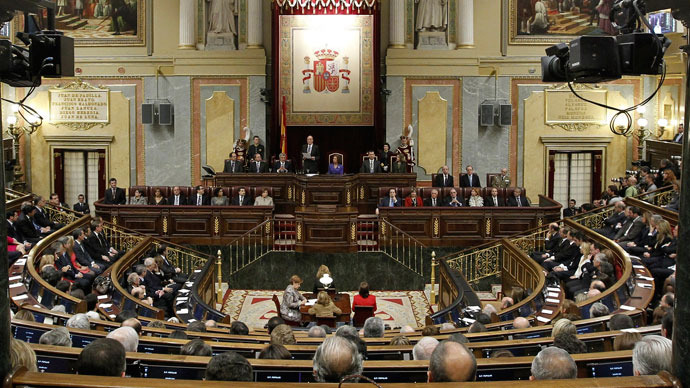 Bars and cafeterias at the Spanish Parliament will stop serving discounted liquor after public outrage in the economically troubled country prompted a committee to axe the privilege. Beer, wine and coffee will still be sold at a discount.
A commission ruled unanimously this week that after a new catering firm is chosen for Parliament in autumn, market prices will be charged for most alcoholic drinks served in the building. A scandal emerged last week when Spanish media reported that prices at Parliament's nine restaurants are as low as half that of other establishments in the area.
Catering for the Spanish Parliament will cost more than $1.15 million in 2013. Spanish social media was rife with scalding remarks on the scandal – some MPs said that voters suggested they should work from inside the cafeterias.
In recent months, the Spanish government, led by Prime Minister Mariano Rajoy, has been forced to raise taxes and cut public spending on schools and hospitals in a bid to stabilize the budget.
"It makes citizens upset, and they are right, so the leadership has decided to change it," said Alfonso Alonso, a spokesperson for Rajoy's People's Party in the lower house Congress, according to Reuters. Alonso added that the situation branded MPs with a "frivolous image," something the new measure aims to mitigate. 
However, beer and Rioja wine will still be served at €0.95 ($1.25) and €1.65 ($2.15) respectively, compared to roughly €1.90 and €2.40 elsewhere in central Madrid.
Defenders say that the current pricing scheme is available to all who visit the building, not just MPs. In addition to its 350 deputies, Parliament usually hosts around 400 staffers, 300 temporary employees and about 150 media professional, as well as police and other visitors.
Cafeteria staffers told Spanish newspapers that liquor is not nearly as popular as beer, soft drinks and meals.
Jesus Posada, President of the Congress, said it "is not easy to find candidates" to take catering jobs at Parliament, because it's a complex task "with many hours of service." Currently, two firms have submitted offers to service Parliament; one will be selected by September.
The drinks scandal has damaged the already-battered image of Spanish politicians. A recent poll revealed they are seen as one of the country's four worst problems, along with the economy, unemployment and general corruption and fraud. Another survey gave politicians a 93 percent disapproval rating.