Spaniards outraged by prime minister's corruption denial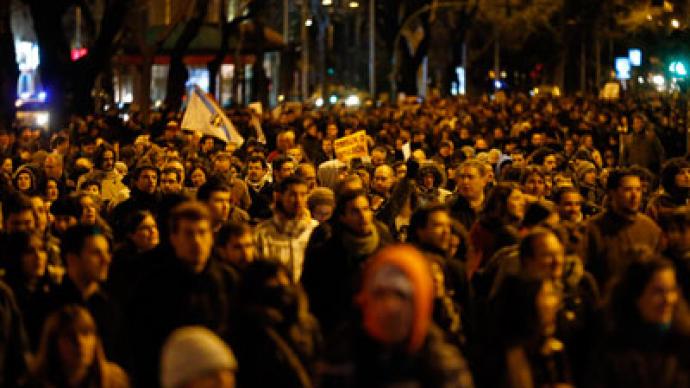 Demonstrations have taken place across Spain following the Prime Minister's denial of corruption. In Madrid riot police were called in to quell the crowd.
Protesters took to the streets on Saturday evening in Madrid, Barcelona, Alicante, Valladolid, and Sevilla demanding the Prime Minister's Popular Party explain its finances after Mariano Rajoy's televised denial that he had accepted under-the-table payments.Following the revelation, police forces flooded the streets to prevent protesters from getting close to Rajoy's Popular Party headquarters. Carrying banners reading "The shame of Spain" and "You will pay for corruption with prison" crowds poured onto the streets.Rajoy promised to disclose the amount of funds in all his personal bank accounts."Next week, my statements of income and assets will be made available to all citizens," he said, adding they would be published on the official website of the prime minister.Earlier, El Pais published details of secret papers belonging to former party treasurer Luis Barcenas allegedly documenting undeclared payments. The funds were allegedly paid by construction industry businesses, before the collapse in 2008. El Pais claimed that almost two-thirds of the suspected transactions violated Spain's party financing laws. The lists published said the documents showed that as of 1997, Rajoy received about 25,000 Euros in "envelopes" each year.The information surfaced when the National Court reported that Barcenas had accumulated around 22 million Euros in Swiss bank accounts.Attorney General Eduardo Torres-Dulce said Friday there is sufficient cause to investigate the claims.With a 26 percent unemployment rate and stiff austerity measures, many Spaniards feel betrayed and abandoned by their government. An online petition has been signed with some 740,000 signatures demanding the leader's resignation.
You can share this story on social media: