Clashes in Madrid as protest over govt spending spreads to 46 cities
Rallies that started in the Spanish city of Burgos have spread nationwide, including Madrid, leading to 14 arrests in the capital. The initial protest to a costly government project quickly infected other cities in the recession-stricken country.
The capital, Madrid, saw one of 46 protests take place in Spain on Wednesday.
There, several hundred people came out onto Puerta del Sol square in the city center in support of those who had been gathering in Burgos' Gamonal district for about a week to protest the government's plans to re-model a street, as well as its brash spending in times of economic difficulties for the country.
But the protest in Madrid quickly turned into a riot, resulting in several dozen of the more radical protesters clashing with the police, several hours later in the afternoon.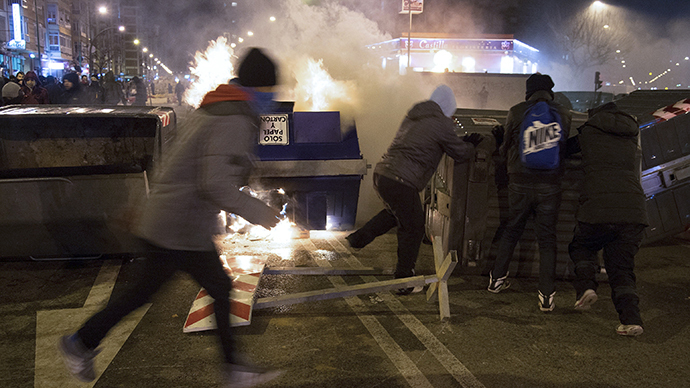 Arriving at Genoa street, the more violent protesters started throwing firecrackers, smoke bombs, bottles and various street objects at the police, who met the assault with batons and set up barricades. The protest took place close to the headquarters of the ruling People's Party (PP).
The police then chased the hooligans in smaller groups around the capital's downtown streets, as a result of which five policemen and six protesters received injuries.
There were also 14 arrests – including three minors.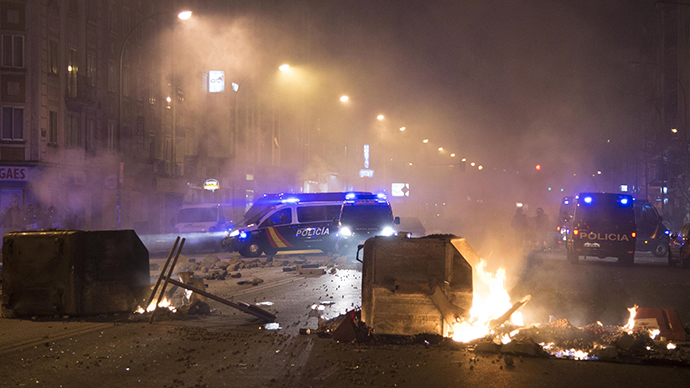 The initial reason to protest was a state-financed project to turn a street in Burgos's Gamonal district into a boulevard, while the parking lot was to be moved underground and turn into one people would have to pay to use.
But that issue is compounded by an overall dissatisfaction with government spending on multi-million euro projects at times of great economic adversity and when other social projects were not taken up; not to mention spending 8 million euros on the remodeling with a huge half-billion euro debt that the city of Burgos in northern Spain already faces.
In light of the protests, the government has put the reconstruction on hold amid widespread disagreement by people that austerity should be practiced in times of such heavy economic difficulties.
Very recently, in last year's third quarter, Spain was still battling a recession and the EU is still keeping a watchful eye on how the country spends its money. As a result of the already existing austerity measures, the government has had to make significant sacrifices in the sectors of education, healthcare and other basic things – which in itself has caused widespread outrage.
Therefore, the protests now taking place in 46 cities are seen as largely symbolic power-to-the-people events. The city of Valladolid in northwest Spain reportedly saw 1,200 people come out onto the streets.
You can share this story on social media: