General strike and rallies in Spain: LIVE UPDATES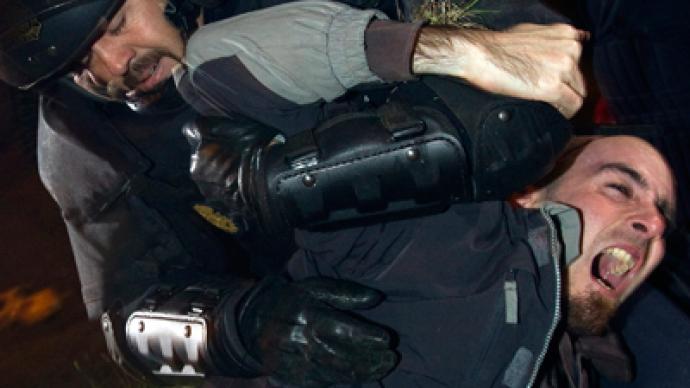 17:51 GMT: Protests turned violent in Barcelona, where demonstrators broke windows and lit a bonfire outside the Barcelona Stock Exchange. Several arrests have been made.17:44 GMT: In Madrid, demonstrators are beginning their march, which should end in La Puerta del Sol, the city's main square.12:48 GMT: Spain's employment minister Fatima Banez said the Spanish government will not bow to pressure from the general strike and the key issue of the labor reforms will not be changed. 11:57 GMT: Thursday's walkout and demonstrations come just a day before the government is to serve a new round of belt-tightening. The new budget, to be announced on Friday, is expected to include at least $20 billion (15 billion euro) of austerity cuts.11:33 GMT: Madrid is paralyzed with traffic jams. But otherwise, the city is calm. More demonstrators are flocking into the streets.
11:01 GMT: This morning in Barcelona, some two hundred students marched down the Diagonal Avenue, one of the city's main roads, in the course of the general strike.10:43 GMT: Protesters burnt mattresses and other debris on a major highway leading into the southern city of Seville, grinding traffic to crawl, say local media. A similar demonstration took place outside an industrial estate in Tarragona. There, workers blocked access to a chemical factory by setting tyres on fire.
10:25 GMT: Spain's jobless rate is nearly 23% overall, constituting a eurozone high. Nearly 5.3 million Spaniards are out of work. Almost half of them are under 25 years old.10:16 GMT: Dozens of Spanish cities and towns are rallying today against the labor decree. Protesters have put numerous stickers and posters reading: "No to labor reform and abusive lay-off, general strike."
10:07 GMT: As demonstrators tried to stop buses leaving a station in Carabanchel, southern Madrid, a police officer hit a protester with the handle of his baton cutting the activist above his eyebrow, reports Agence France Presse.09:47 GMT: All underground trains in Madrid and Barcelona are delayed 15 minutes, says Interior Ministry spokeswoman Cristina Diaz.09:40 GMT: Nine people have been injured in scuffles with police. No details why or where all of them have been hurt are provided.09:36 GMT: The strike "practically paralyzed" factories during the night shift while 85 percent of workers in the food sector were also taking part, say the two main unions, Comisiones Obreras and UGT.09:35 GMT: Outside Atocha, one of Madrid's main railway stations, picketers waved red union flags and blew shrill whistles as police looked on.
09:29 GMT: A Molotov cocktail was thrown at a police car in the eastern city of Murcia, says a spokeswoman for the Interior Ministry. The car burnt down; two policemen were injured in the flames.09:17 GMT: Around the country at least a third of public transport is expected to halt, including commuter and local trains. However, some passengers say they have not noticed a difference to train services in the early hours of Thursday.09:06 GMT: Nissan and Seat car factories in Catalonia are locked down; some TV stations have gone off the air. A big traffic jam is reported along the A6, one of the main roads into Madrid, as student protesters have blocked it.09:04 GMT: "No government has passed as many reforms in its first 100 days in office as this one," PM Mariano Rajoy said on Tuesday speaking in Seoul. "That's probably why there is a general strike," but it "will not solve Spain's problems," he added.09:01 GMT: Energy consumption around the country is down 20 percent on a normal working day – a sign the 24-hour general strike is gaining strength. In hospitals, a minimum service is planned, while schools and nurseries are expected to open.08:50 GMT: Street demonstrations have been called for Thursday, mostly for the evening when many people will have finished work. The demos will be boosted by students. Half of the 5.3 million Spaniards on the dole are young people08:45 GMT: "This is a just response to a brutal reform of our system of labor relations," said Ignacio Fernandez Toxo, leader of the CCOO, which is one of the two main trade unions in Spain along with the UGT.
08:37 GMT: Left-wing parties including the leading oppositional Spanish Socialist Workers' Party have shown full support to the general strike. At the same time, Esperanza Aguirre, Spain's Minister for Education and Culture, is reported to slam what he sees as an attempt to create public disorder.08:34 GMT: Iberia, Spain's largest airline, said over 400 flights would be canceled due to the walkout. This is over 60 percent of those scheduled to fly on Thursday. Air Nostrum and Vueling air companies have also taken down over half of their flights. 08:30 GMT: Spanish police have made 58 arrests. They were mostly people taking part in picket lines to stop night shift workers getting to jobs in public transport, factories and wholesale markets. Six people have been injured in clashes: a police officer and five civilians.08:23 GMT: "Our plan is to start a long term fight. This strike is not going to be the end because we are risking so much: the future of the social model of this country and of Europe," Javier Doz, the leader of the International Relations of Workers Commission Union, said before the strike.08:10 GMT: Banners prepared for today's rally will read: "Unfair – say 'no' to the labor reform law."
07:57 GMT: In Valencia and Malaga, hundreds of demonstrators have blocked the entrance to the main wholesale markets.07:33 GMT: Several protesters have been detained in Madrid, reports the Guardian. They have been trying to stop an urban bus leaving for work.07:12 GMT: "They want to end labor and social rights and finish off everything" is the theme of Thursday's general strike.07:00 GMT: Hello. We are starting our live updates on labor unions strikes and street protests rolling through Spain.Authorities expect over 7,000 people to join in the general strike called to slam the new labor law, adopted by the Spanish government last month. Unions claim over 250,000 people will take part.Strikes began even before dawn. Union leaders arrived at Madrid's central square at night to start coordination work.Spaniards fear the new law will deprive them of labor rights, as the decree facilitates sacking workers, cutting salaries or modifying work conditions. Prime Minister Mariano Rajoy and his government hope the decree, coupled with other austerity measures, will bring recovery to Spain's staggering economy.
You can share this story on social media: