Spanish police arrest 8 suspected of recruiting fighters for 'Syria jihad'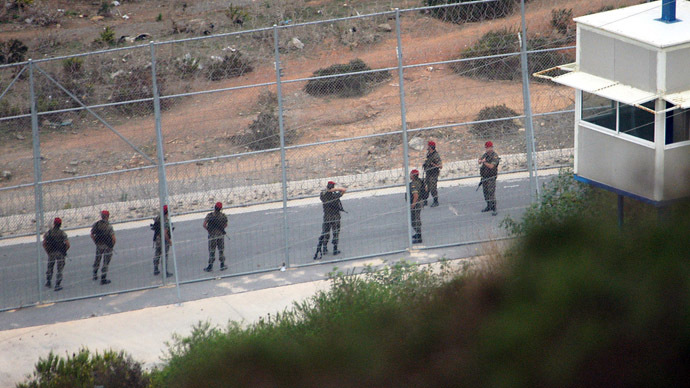 Eight individuals, with alleged links to Al-Qaeda, have been arrested in the Spanish territory of Ceuta on suspicion of recruiting jihadi fighters to go to Syria and elsewhere, police say.
"We have broken up a network responsible for sending combatants to Al-Qaeda linked terrorist groups operating in Syria," the Interior Ministry said in a statement. 

Police say the network was based in Ceuta and the Moroccan city of Fnideq.

Ceuta is an 18.5-square-kilometer (7.1 square mi) autonomous city of Spain and a North African exclave that shares a western border with Morocco.  
It was revealed that "dozens of people, some minor, had left both Ceuta and Moroccan territory under the cover of this terrorist network," the statement continued.

In order to conceal their identities and whereabouts, some of the individuals "staged suicides while others joined training camps as a prelude to armed action," it added. 
The network worked on recruitment, indoctrination, facilitation and travel funding, external contact with other terrorists and following the guidelines issued by the terrorist organization Al Qaeda.

The ministry said the operation, conducted by police intelligence services and the Spanish Civil Guard, was still in progress.
Last month, it was reported that nine residents of the Spanish exclave had already departed for Syria even as the investigation was in progress.
"The number of residents in Ceuta which have set out for Syria with the intention of fighting there against the regime of (President) Bashar Assad has now reached at least nine, according to sources familiar with the ongoing investigations," reported El Pais, the Spanish daily.
Spanish security services reached their conclusions through evidence provided "by (the suspect's) families, oral testimony and phone calls received from the Middle East, which indicate that since April 2012, eight Spanish Muslims, one of them a minor, and a Moroccan who lives in Ceuta traveled to Syria."
Ceuta's Muslim population is around 43,000.
You can share this story on social media: