Spain overpowers Paraguay for semifinal spot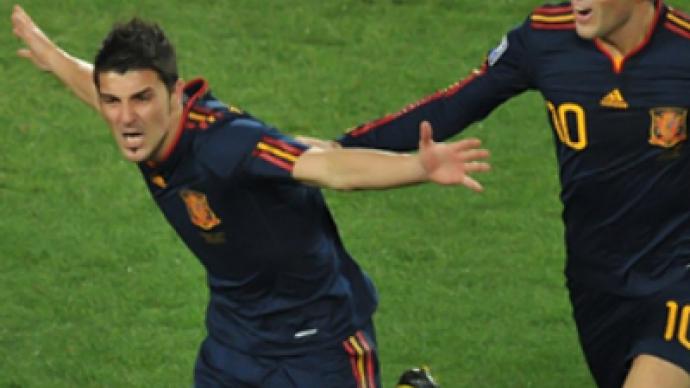 David Villa's fifth goal at the World Cup granted Spain a 1-0 win over Paraguyay in the quarterfinals.
The first half went according to Paraguayan plan. The Latin Americans, who conceded just one goal in their previous four games, gave the ball away to their rivals and did what they do best – defended with maximum dedication.
As a result, Spain failed to come up with a single shot on target in the opening 45 minutes, while Paraguay managed to score, but Nelson Valdez's goal was ruled out due to offside.
The second half turned out to be a lot more dramatic affair as the games saw two penalties in the space of just three minutes. First, Spanish keeper Iker Casillas saved Oscar Cardozo's spot kick on 59th, and then his Paraguayan counterpart Justo VILLAR didn't allow Xabi Alonso to beat him.
The score remained 0-0 and the match seemed to be heading for extra time when Spain grabbed the lead. Substitute Pedro hit the woodwork after a great assist from Andres Iniesta, but Villa was there on the rebound and his shot went in after taking a deflection off both posts, 1-0.
It was the striker's fifth goal in South Africa, which allowed him to take the lead in the competition for the Golden Shoe given to tournament's best scorer.
Spain makes its was to the semi finals where they'll face Germany, with the game becoming a repeat of the Euro 2008 final, which the Spaniards won 1-0.
You can share this story on social media: