Thousands of Spanish students march for third day against cuts (PHOTOS)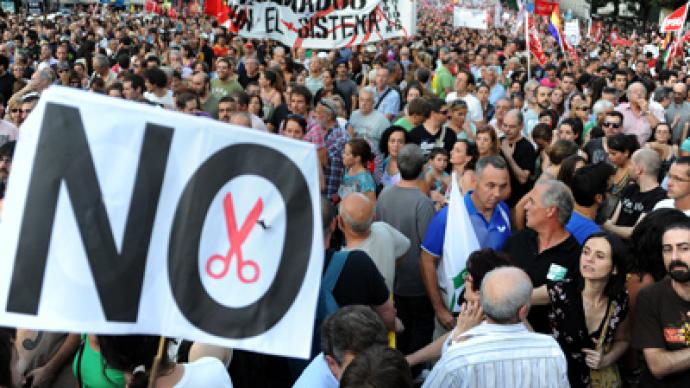 Thousands of students have taken to the streets of Madrid in the third and final day of protests organized by the Spanish Student's Union against education spending cuts.
The demonstrators marched from Atocha Square to the heart of Madrid's historic center on Puerta del Sol Square on Thursday.Many wore green T-shirts amidst a sea of banners and placards denouncing the budget cuts.Approximately $6.5 billion has been cut from education funding in Spain since 2010, reducing the number of teachers per school, available scholarships, and subsidized meals and textbooks for low income students across the country.Dramatic hikes in tuition fees have also been announced as Spain appears on the brink of asking for a bailout amid its deepening budget crisis.Leaders from the 27 EU member states are attending a two day summit in Brussels on Thursday to tackle the bloc's shaky economic foundations.Spanish Prime Minister Mariano Rajoy could use the summit to "make explicit the conditions that would be imposed in exchange for aid," one diplomatic source told AFP.German Chancellor Angela Merkel wants to deputize a "budget czar" to enforce the 17-member eurozone's budget rules – including the power to accept or reject member states' proposed spending and tax plans.
(AFP Photo / Dominique Faget)Both France and the non-euro member Britain have pushed back against the proposal in opposition to giving Brussels even more power over national taxation policy.London-based journalist Tom Gill told RT Chancellor Merkel's desire for the EU to be empowered to veto national budgets is a "big attack" on the bloc's democratic principles."[Merkel's proposal] has been part and parcel of the whole process of European integration for quite some time now, with the removal of monetary and fiscal policy from national governments. Since the creation of the single currency, there's been a huge democratic deficit. And current proposals that will give more power to unelected officials in Brussels and Frankfurt, and give a particular amount of power to the stronger states, is fundamentally undemocratic and is rolling back the whole principles of what European integration was founded not long after the Second World War," he said.Gill argues out of touch EU politicians and unfettered markets have given free roam to banks and the global elite to call the shots while everyone else pays the price."They're ripping up the social contract that was created after the Second World War, they're rolling back labor rights, they're privatizing public services; this is not in the interest of European people and yet our European leaders carry on with the same policies again and again, and it will only lead to further misery," he concluded.
University and highschool students attend a demonstration against deep government cuts to education spending on October 18, 2012 in Madrid (AFP Photo / Dominique Faget)
University and highschool students attend a demonstration against deep government cuts to education spending on October 18, 2012 in Madrid (AFP Photo / Dominique Faget)