'Nobody elected the king': Thousands protest monarchy in Spain (VIDEO, PHOTOS)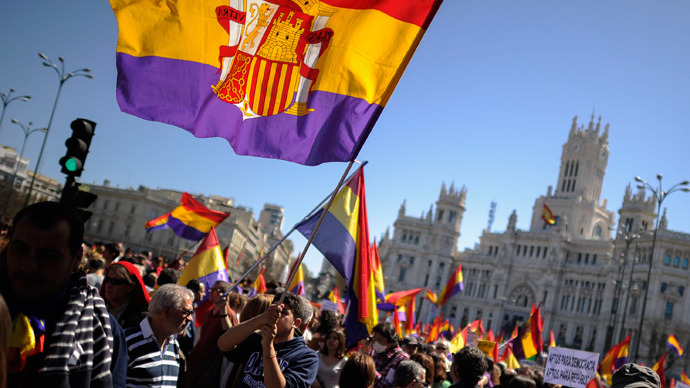 Thousands of people have hit the streets of Madrid to protest the Spanish monarchy. Demonstrators demand return to a republic, which was last established 82 years ago.
The marchers convened on Puerta del Sol, a central square in the capital. Waving thousands of red, gold and purple republican flags, the crowd chanted: "Tomorrow, Spain will be republican".
"Nobody elected the king," protester Veronica Ruiz told AFP. "We want a referendum. It would be the fair and democratic way to find out what the people want."
The protest had been called to mark the anniversary of the country's Second Republic, proclaimed on April 14, 1931, and followed by 40 years of dictatorship under General Francisco Franco after a 1936-39 civil war.
Franco then transferred power to Prince Juan Carlos, and he became head of state in 1975.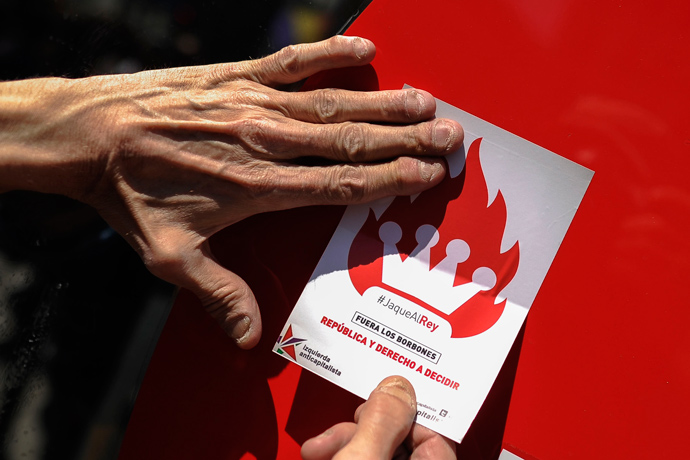 For decades, the king was largely admired for having led Spain from dictatorship to a modern democracy. The recent scandals around the royal family, however, have led to a slump in its popularity.
Last year King Juan Carlos broke his hip during an unannounced safari while taking the presidential chair of the Spanish branch of the World Wildlife Fund. Besides the moral aspect, the cost of the adventure was higher than austerity-hit Spaniards believed appropriate.

No apologies from the king have been able to repair the damage to his reputation.

In another scandal, the king's daughter, Princess Christina, was named as an official suspect in an alleged plot to embezzle public money.

"This monarchy was imposed on us by the dictatorship, therefore we consider it to be illegal,'' 45-year-old teacher Maria Ayuso told AP. "Also, we consider it anachronistic to have a non-elected head of state; it's not democratic." 
Support for the monarchy in Spain has fallen to a historic low of 54 percent, according to a poll published in the daily El Mundo in January.