Space tourist Simonyi greeted at Russian Star City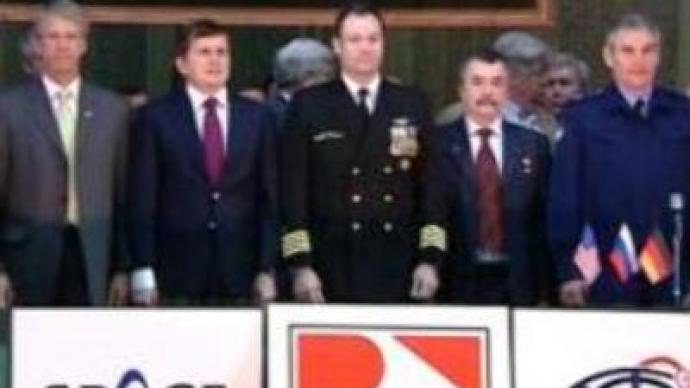 It has been almost three weeks since a space tourist, Charles Simonyi, arrived back on Earth after his journey to the ISS. He has been re-united with some of his fellow crew members at a celebration in Russia's Star city.
Standing at the foot of Yury Gagarin's statue, the world's latest space traveller paid tribute to its first conqueror.After a successful two-week journey into space Charles Simonyi was back at the Star City cosmonaut centre where he had spent almost six months in training.Joined by his fellow ISS crew members – Michael Lopez-Alegria, Mikhail Tyurin and European Space Agency astronaut Thomas Reiter – he was met at the centre doors with an offering of bread and salt. It is a traditional Russian gesture, meaning welcome home and it marked the start of a day of celebration for the returning spacemen.Greeted by their respective national anthems, the four were joined by a huge number of officials and friends, all wanting to praise their achievements.Round after round, speeches were given before the men received more gifts, medals and flowers than they could possibly carry, all to a musical accompaniment.Despite going into space as a tourist, Charles Simonyi's voyage was no pleasure cruise. Whilst on board the International Space Station he conducted several experiments – including measuring the amount of radiation he was exposed to during his stay and checking how sleeping in a weightless environment affected backache.Astronaut Michael Lopez-Alegria admitted that he was initially highly sceptical of the plan to send tourists into space, but that working with Simonyi had made him think again.
"He also was very adaptable to what was going on onboard, quickly realised where his limits were and was quite a pleasure to work with. I think that through people like that we can really get the word out about what is going on in space and if the price we pay is not having a professional up there then that is probably worthwhile,"
he noted.After following in the footsteps of Yury Gagarin, Charles Simonyi and his fellow International Space Station crewmembers are enjoying having their achievements celebrated back on Earth. But there will be no rest for the man who christened himself 'the first nerd in space'. He is going straight back to his day job, as head of an international software company.
You can share this story on social media: