From cold to space: ISS mission blasts off from Baikonur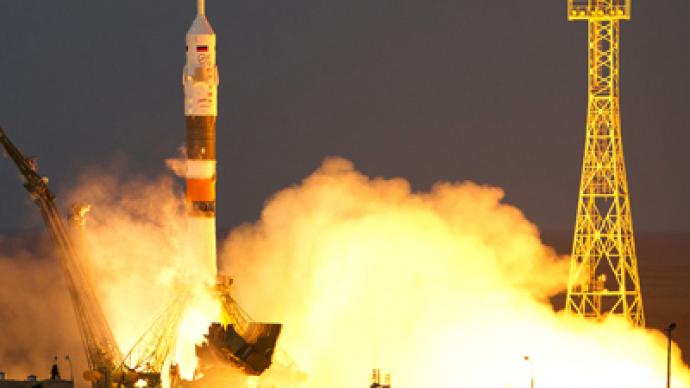 In the bitter cold, a small and tiny white thing, carrying the most musical astronaut team in history, all of a sudden roared and smoke started coming out of it. I felt the ground shake under my feet, and Soyuz soared up into the sky.
A few seconds passed, and all there was to see up there was a tiny burning spot. And then a flashing light came off it. I heard somebody behind me whisper, "Stage one has detached."I have been to the Soyuz launching facility four times already, but believe me, every launch is different. What stays the same is the goosebumps, the roaring rocket, the shaking ground, the tears, and the unfading desire to see it all again.Aboard the Soyuz are Canadian astronaut Chris Hadfield, NASA astronaut Tom Marshburn and Russian cosmonaut Roman Romanenkois. They will be spending five months in space on the International Space Station (ISS). The mission involves carrying out two spacewalks, and working on experiments in the orbiting laboratory.This was my fifth visit to Baikonur. It was bitterly cold, and the icy wind cut me to the bone, so I wouldn't have survived without the warm jacket, pants and sweater, or the super warm mittens my friends gave me. The temperature had dropped to -37C, unusually cold for this time a year.The first time I got out of the car in winter at the cosmodrome, I breathed in – and stopped short of breathing out. Then someone approached me, helped me put a protective mask on and quietly said, "Now, breathe." Only after that did I start breathing.It definitely took somebody with a weird sense of humor to name this place Baikonur, which translates to 'rich land.' If this land is rich in anything, it is wind, ground squirrels, sand and camels.Back at the cosmodrome, they were moving Soyuz to the launch pad. The rocket stands in all its glory, with its scarlet nozzles – the first stage of the rocket, also dubbed 'carrot' by the cosmonauts. Each 'carrot' is named after an assembly worker, to help distinguish one from another: Boris, Vladimir, Grigoriy and Dmitriy (B, V, G and D for short). Soyuz is transported with its nozzles coming first: Boris, Vladimir, Grigoriy and Dmitriy show the way.They are led by guards and dogs. They mostly have to guard the rocket against journalists and tourists: Each time, they try to put coins on the rail. If they are lucky, the guards won't remove the coins, so the train carrying the rocket will flatten them out and turn them into much-desired souvenirs.They take the Soyuz to the Gagarin launching facility. This is where Gagarin's first journey into space started in 1961, and it is still used by cosmonauts.I was jumping and running around, trying to take the chill off a bit. And that's when they came: Bizarre people wearing enormous parkas, covered up with scarves, which made it impossible to see their faces. They posed for photos by the Soyuz and laughed. They seemed to be brimming with energy. But how could they be having fun in that terrible weather? They were wearing large red mittens with a picture of maple leaf and the word 'CANADA.'
"You must be Chris Hadfield's family? Have you come to see him off?" I ask.The woman in a red jacket uncovered her face and I recognized her to be Helene, the wife of Chris.One thing that struck me about Helene Hadfield was that she looked perfectly happy. I had spoken to so many cosmonauts' wives, and they all had an underlying anxiety. But Helene didn't."Can't wait for him to play his guitar and sing for me in space, he promised me that." When the man you love fulfills his dream, why be sad, she says.
This is what I call people of the same blood type. This isn't something you talk about, or something you can pretend; it's something you feel. When talking to Hadfield I imagined his wife exactly this way. "She is amazing," he said. The amazing wife showed up with all of their three kids, who all lived in different countries but gathered to see off their father."Any of you planning to become an astronaut?" I asked."Nah, I'm too lazy for that. That's my dad's dream," one said.This mission is indeed his dream. When a nine-year-old Chris saw the Moon landing on TV, he went outside, stared at the moon that Armstrong was walking, and thought that was exactly what he wanted to do: Fly to stars. He strove toward that dream his entire life."If you think an astronaut's life is all about space missions I've really disappointing news for you. I've been training for space missions for 20 years, and I've flown in space for 12 days only. But now I am standing at the cosmodrome watching the rocket being transported, and I am enjoying this view, and this sunshine. This is what I call life!" Chris said six months ago at Baikonur.He said these words in the same spot where his wife was telling me about his dream, and how writing and playing music in space was another dream of his. While on the ISS, he wants to write music to be played in space for the next time people fly to the Moon. While Chris is unlikely to make it to the Moon, his music may.
On a related note, this seems to be the most musical ISS crew ever. All of its crew members play instruments. Interestingly enough, Roman's father Yuri Romanenko was the first to bring a guitar into space. Astronauts have written music that is now played on the ISS, so Hadfield's dream is quite realistic, especially with a crew that seems to be near-ideal for writing music.
While on board the ISS, Hadfield will premiere a new song called 'Is Somebody Singing?' on February 8, which he wrote with Ed Robertson of the Barenaked Ladies.An astronaut once told me that there are standard Russian cosmonauts who don't smile, and the non-standard ones who know how to smile. Roman Romanenko is the most non-standard of all non-standard cosmonauts. He never seems to sit still, and does a little dance even while putting on his spacesuit."He is always so optimistic," says his wife Yuia. "He's very serious and focused on the inside yet acting like a kid on the outside. This kind of attitude is really helpful. There have been some problems with our recent launch projects, like the Proton-related troubles, of the unsuccessful Phobos-Grunt launch. I am really worried while he seemingly isn't. But I get it why he wants to go back. He gets to fly there."
When you ask Roman how he feels about being away from his family, he says, "Well I used to spend up to six months in Houston which is further than the ISS; the ISS is some 40 km from the Earth, and Houston is where? So I am always near Yulia. What's there to worry about?"There's just one thing Roman is upset about: You cannot make pelmeni (Russian dumplings) in space. He really misses them, as he says the whole family always makes them together, and they're really delicious. As I checked with experts, there's no way to ship pelmeni to space yet. This is something I don't get: You can make Fajitas in zero-gravity, but not pelmeni.The two hours before the start are usually the most peaceful, as the astronauts say. By then, they just sit inside the rocket listening to their favorite music.The mission control center, the so-called 'bunker,' is the only place where everyone is tense to their limits. Specialists are checking all the controls while waiting for Anatoly Rudakov – the 'First,' as they call him – to give the go signal. Rudakov is watching the rocket through a periscope. He had admitted the other day that he was very worried: "I'm really anxious, but nobody should be able to see how nervous you are. Everyone should feel that you know what you're doing. And I do know…"
Romanenko insisted that sitting inside a Soyuz was no different from a space training simulator. It's only after the start you realize that it's no longer a training exercise, and this time, you are indeed flying to the stars. Hadfield told me he was once so nervous before the flight that he couldn't stop his leg from shaking. But they all say that it's fascinating to watch the sky change from light blue to navy blue to black, and then the zero gravity hits, after just 540 seconds.
You can float your way to the window and watch the Earth. Roman Romanenko, Thomas Mashburn and Chris Hahfield – who will be flying around the Earth for the next six months – will get to see 15 sunrises and sunsets each day. They will become lab rats, as they at times jokingly refer to themselves, because most of the zero gravity experiments are about them. This crew will dock with the ISS on December 21, the day some predict the world will end.It will be quite intriguing to watch it from space, Chris says before the flight. When they are back, we should ask them what the end of the world on Earth looks like from above.
LidaVasilevskaya, RT
You can share this story on social media: