Soyuz spacecraft lands successfully, crew safe (PHOTOS)
Three ISS crew members have successfully returned to Earth on board a Soyuz spacecraft that landed on the Kazakhstan steppe on Wednesday. Two Russians and an American spent 166 days in space.
The landing capsule of Soyuz TMA-08M made a touchdown in the planned area and the rescue operation didn't take long, featuring 12 Mi-8 helicopters and three planes, as well as six rescue vehicles and 14 auxiliary vehicles that were sent to recover the crew, the Russian aviation agency said.
"The crew has endured the descent and landing normally, the cosmonauts are in good moods and health," said a commentator from Russia's Mission Control Center.
Once examined thoroughly by medical staff, members of the 36th ISS expedition, Russian cosmonauts Pavel Vinogradov and Aleksandr Misurkin will take a flight to Star City space center outside Moscow, while American astronaut Christopher Cassidy will return to Ellington Field in Houston soon.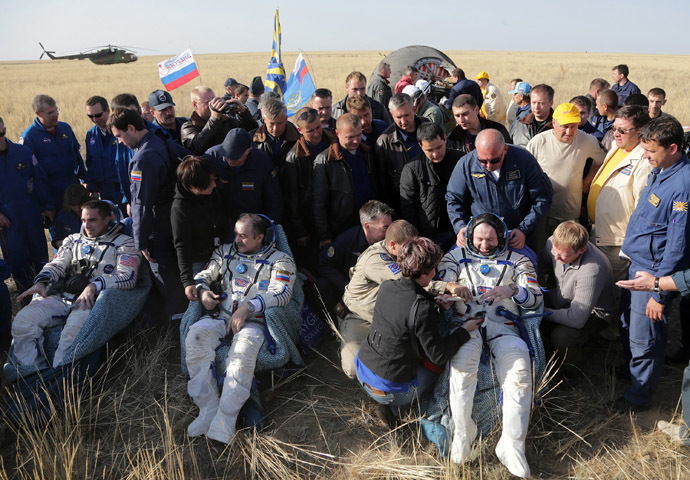 Pavel Vinogradov has become the oldest Russian cosmonaut, celebrating his 60th birthday while working on the ISS.
The crew that continues working on orbit consists of Commander Fyodor Yurchikhin, NASA astronaut Karen Nyberg and European Space Agency astronaut Luca Parmitano.
A new expedition to the ISS will be launched soon, on September 26, on Soyuz TMA-10M spacecraft. The new crew consists of Russian cosmonauts Oleg Kotov and Sergey Ryazansky and an American astronaut Michael S. Hopkins.