Space Oddity: Russia's Soyuz returns from ISS to David Bowie tune
Three ISS crew members have returned to Earth aboard the Russian Soyuz TMA-07M spacecraft after a five-month stint. During the mission commander Chris Hatfield took the internet by storm with his cosmic rendition of David Bowie's song Space Oddity.
The Expedition 35 crew touched down at 6:30AM Moscow time on Tuesday, Mission Control told Itar-Tass. They consisted of Russian cosmonaut Roman Romanenko, Canadian astronaut Chris Hadfield and NASA astronaut Tom Marshburn.

"It's beautiful…it's morning here", Romanenko radioed to mission control just before landing. The three space travelers were in high spirits. "That was quite a ride home", remembered Hadfield.
Hadfield was the commander of Expedition 35, which has just ended, as number 36 is up. He recently decided to record an amusing David Bowie cover right in space, sending it back in a series of videos. His rendition of 'Space Oddity' went viral on the internet and won him over 900,000 followers on Twitter. David Bowie himself even complimented the song calling it "themost poignant version of the song ever created" on his official Facebook page.

With deference to the genius of David Bowie, here's Space Oddity, recorded on Station. A last glimpse of the World. youtube.com/watch?v=KaOC9d…

— Chris Hadfield (@Cmdr_Hadfield) May 12, 2013
The news comes just two days after Marshburn and another NASA astronaut had to perform a daring emergency spacewalk to fix a dangerous ammonia leak on the outer surface of the station. Ammonia is used as a coolant.
During the 144 days they spent in space and on the ISS, the three had orbited Earth 2,300 times and covered around 98 million km (61 million miles) in distance.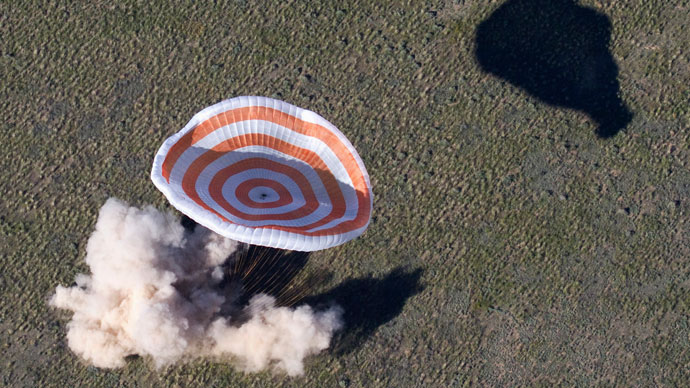 Three other space personnel were left to watch over the ISS – NASA's Cassidy and Russian cosmonauts Pavel Vinogradov and Aleksandr Misurkin. They won't be alone for long, however – as they will soon be joined by Italy's Luca Parmitano, NASA's Karen Nyberg and the Russian Fyodor Yurchikhin at the end of the month of May.
The Soyuz spacecraft has been a solid piece of technology relied on by NASA to transport the agency's astronauts back and forth between Earth and the ISS since the shuttle program was wrapped up in 2011. NASA's hope is that private space ships will soon be used for the task.
The International Space Station is a spinning space laboratory about the size of a house. Five different agencies from 15 different countries had taken part in designing and building it back in 1998. Since the year 2000, the space lab had been occupied in shifts by crews of international astronauts and cosmonauts.
#soyuz TMA07M crew lands safely on #earth. View from mission control in #moscow#Russia#ISS#NASA#space#Science twitter.com/seanthomas_RT/…

— Sean Michael Thomas (@seanthomas_RT) May 14, 2013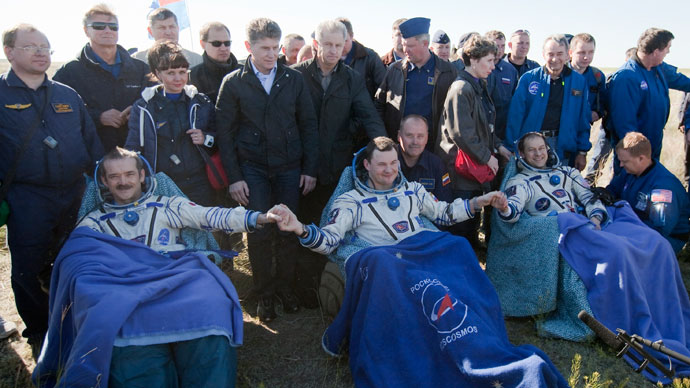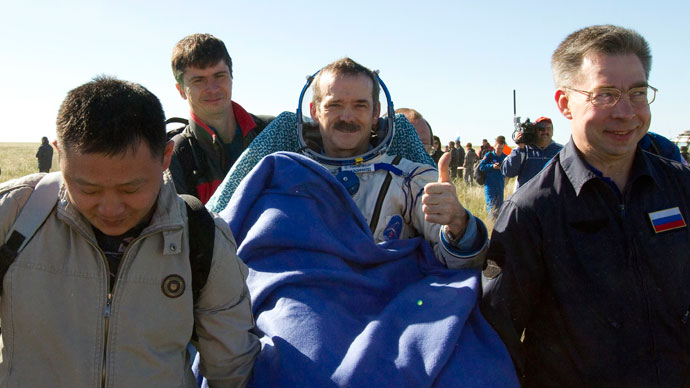 You can share this story on social media: