Soviet war memorials outlawed in Estonia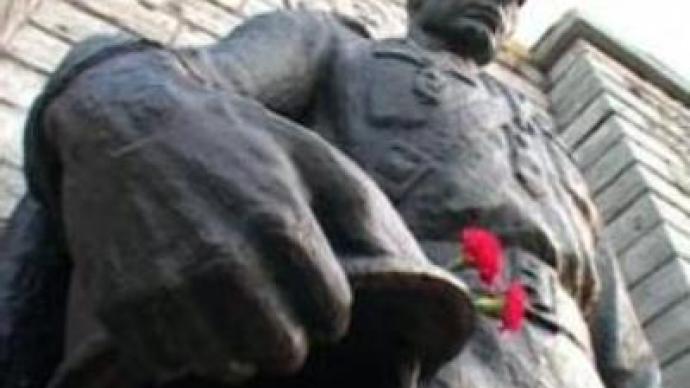 The Estonian Parliament has overwhelmingly voted for removing Soviet war memorials from city centres. Out of 101 MPs 66 supported the bill and 5 voted against.
The bill was initiated by the ruling Central Right Reform Party, together with the Social Democratic Party and backed by the Respublika Party.Heated debate surrounded the part of the bill criminalizing the use or display of Soviet and Nazi symbols in public. The Russian Foreign Ministry criticized the idea calling it "blasphemous".The opposition in Estonia finds the bill as politicizing the issue of war memorials ahead of the elections in March.The bill gives the government the legal tool to remove these monuments from city centers.Soviet war veterans wiil certainly be angered by the move as they use the memorials to celebrate VE-day annually.The adoption of the bill could incite some inter-ethnic hatred and provoke more demonstrations at the foot of the memorials.The bill will certainly strike a severe blow to the Russian-Estonian relations.Last November, the Russian Duma adopted a resolution that called the Estonian bill "immoral" and "a sort of fascism".
Alyosha's fate
One particular statue which has been in the centre of the public debate ahead of the bill's adoption is a bronze Soviet soldier in Estonia's capital.The bronze soldier usually nicknamed Alyosha stands right in the centre of Tallinn. The monument was put up in 1947 to commemorate Soviet soldiers who died liberating Estonia from the Nazis during World War Two. For years the statue symbolized the fight against fascism.The bill calls for the removal of all Soviet memorials from central locations. In the case of the bronze soldier, authorities say the statue, which stands on top of a mass grave, should not be located near grassland and a trolley-bus stop. Some say it's a disheartening reminder of what they call Soviet occupation, although others believe removing the monument would be disrespectful and unnecessary.A more common view however, is that such monuments remind Estonians of what they term the Soviet occupation of their country during World War Two, and as such, they need to be removed to stop hatred and aggression. Meantime this view is not shared by all. Bronze Alyosha holds a special place in the hearts of Russian war veterans.
You can share this story on social media: