Suicide blast in Somali theater targets PM, officials - 10 dead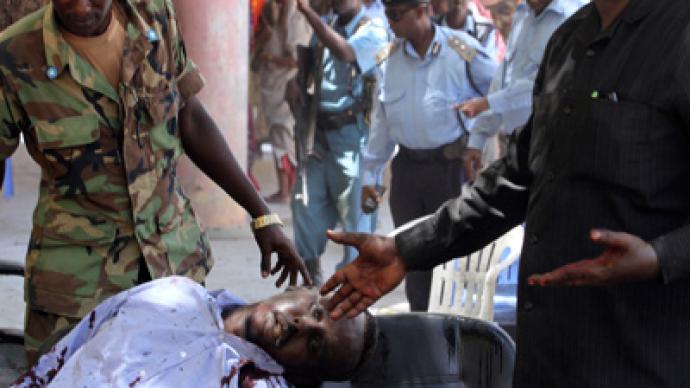 A number of high-profile figures are feared to be among the dead after a female suicide bomber struck the Somali capital Mogadishu's newly-opened National Theater.
Thus far ten casualties have been reported. A Somali sports official has confirmed that the head of Somalia's Olympic Committee and the president of the Soccer Federation died in the explosion.The blast occurred as Prime Minister Abdiweli Mohamed Ali stood at the podium to deliver a speech, but he sustained no injury. Officials are not contemplating if this was an attempt on his life.Over 40 of those injured in the blast were treated at the city's Medina Hospital, with most of them remaining under heavy sedation. Rebel group al-Shabab has claimed it was behind the bomb attack, reports Reuters. The group claims explosives had been planted in the theater before the event.The national theater reopened for the first time in 20 years on March 19 in the capital city with a celebratory concert. Wednesday's ceremony was held to mark the first anniversary of the start of a national TV station.Officials from the country had said that the concert would mark an improvement in the war-torn country's security. A period of relative peace has descended on Mogadishu following al-Shabab rebels' withdrawal from the capital city last August, allowing sports leagues, restaurants and even a little nightlife to flourish.However, the rebels consistently carry out attacks in the heart of the coastal city, despite being pushed out by African Union troops. Last October militants detonated a truck loaded with fuel drums at a government ministry gate, killing more than 100 people.
You can share this story on social media: