Somali pirates' first catch of the year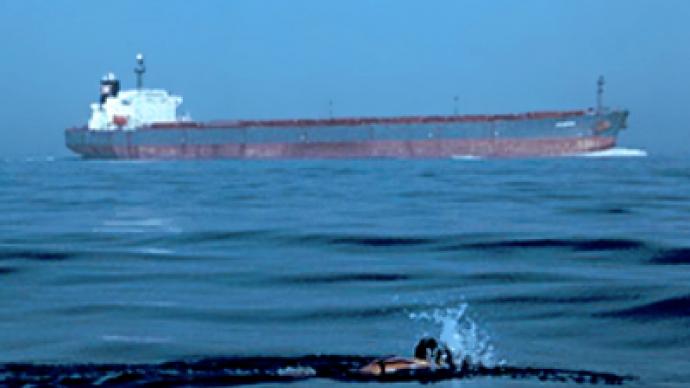 Despite the efforts of the international Navy forces patrolling the Gulf of Aden, Somali pirates have captured their first ship of the year on the first day of 2010.
A Singaporean-owned chemical tanker "Parmoni", with 24 crew members on board, was hijacked on Friday, January 1.
The 150-meter long, 20,000-ton vessel was en route to India when it was boarded and forced to turn towards the Somali coast, The Times of India reported, citing the European Union's Atalanta mission.
"We are trying to raise contact with the ship and look into the safety of the crew," a spokesperson for the ship's owners, GBLT Shipmanagement Pte Ltd, said on Saturday morning, the paper reported.
Singapore's Maritime and Port Authority said it received a distress alert from the chemical tanker at 09:30 GMT Friday.

And the pirates' second catch of the year came on the same day.
A spokesman for the European Union task force charged with combating piracy off Somalia, Commander John Harbour, informed that the British-flagged cargo ship "Asian Glory" was hijacked late on Friday, some 600 miles (1,000 kilometers) east of Somalia.
According to the official, the ship's crew of 25 appeared to be safe and that the pirates had not yet made contact with the ship's owner, Zodiac Management Agencies, AP news agency reports.
There were ten Ukrainians, nine Bulgarians, five Indians and two Romanians on board.
Piracy off the Somali coast picked up again this week after a relative lull in attacks, as a British chemical tanker "St James Park" and a Greek freighter "Navios Apollon" were hijacked on December 28.
The UN Security Council allowed foreign warships to pursue pirates in the Gulf of Aden back in June 2008. Since then the Somali territorial waters are patrolled by Navy of the European Union, the US, China, South Korea, China and other countries.
However, according to piracy expert Mikhail Voitenko, since as recently as November 2009 the pirates have managed to capture eight ships, six of which were released for ransom.
In all, the pirates are holding nine vessels captive at the moment, with 248 seamen, fishermen and sailors on board of them.
You can share this story on social media: