Solomon Islands to get aid after tsunami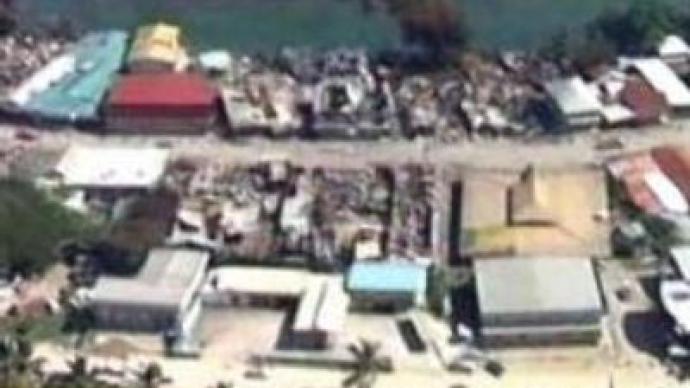 Aid efforts are getting underway in the Solomon Islands, following Monday's deadly tsunami, which was triggered by an off-shore earthquake. The death toll has now risen to at least 28 people.
Thousands more have been left homeless, after waves of up to 10 metres high, smashed ashore on the tiny islands. Lacking food, medicine and fresh drinking water families, are a top priority for aid agencies. The survivors spent the night under tarpaulins – their houses either destroyed or at risk of collapse. In some areas, there are still people missing with officials warning the death toll is likely to go up.
"Being realistic, it will rise I am sure. To what extent it will rise we won't know until today, we have at least three aircraft covering in a grid pattern all the upper isles. At night, there was very little electricity in the area of Gizo and a number of quakes felt in the area,''
Peter Marshall, Deputy Police Commissioner, Honiara, Solomon Islands says. And it is these quakes which have kept survivors' nerves on edge. By noon on Tuesday more than 25 aftershocks had rocked the region, including two of magnitude 6.2. Thirteen villages are feared destroyed and early estimates suggest more than 5,400 people have been left homeless. But efforts to reach those who need it most are being hampered by damaged roads and wrecked communication systems. Government and Red Cross disaster teams are taking in tents and supplies with Australia and New Zealand pledging further financial aid.
"We have already announced an initial contribution of AUD 2 MLN, in addition to that the personnel and the other resources of RAMSI (Regional Assistance Mission to Solomon Islands), which is largely, although not entirely, an Australian operation, have been made available to help with the rescue and rebuilding operation that is needed in the Solomon Islands. And if there is further assistance that reasonably can be provided, we will be willing to do so. It is quite a strain on a small country,"
John Howard, the Prime Minister of Australia indicates. Although further aftershocks are anticipated the worst is thought to be over with officials saying another tsunami is not expected. But with the memories of 2004's deadly Indian Ocean disaster still at the fore of people's minds, anxiety will take a while to subside. In the meantime, aid agencies are working hard to co-ordinate the delivery of medicines and supplies to prevent a humanitarian crisis.
You can share this story on social media: