Sunny future: Humankind faces huge solar storms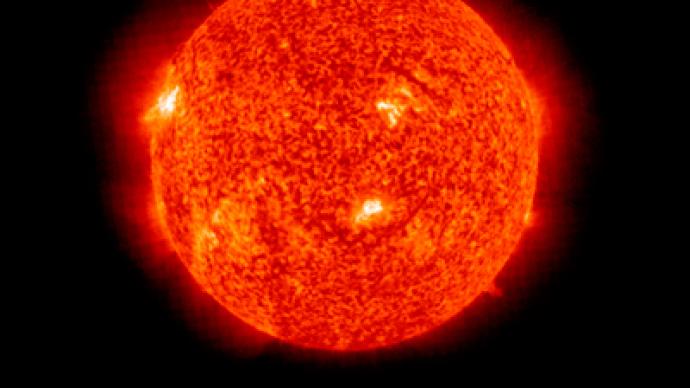 Get ready for some solar action as Earth heads into a period of increased solar activity with a peak in flares predicted for 2013. Scientists say the number of solar storms will be the highest for a decade.
The Sun is on the ascendant phase of its 11-year cycle, with the peak due in February 2013."Now the sun has entered a new phase of its active state. The peak of this phase will occur in 2012 and in the following years. And today explosions and solar flares are occuring more often," Yury Zaitsev, analyst at the Russian Academy of Sciences' Institute of Space Research, told Interfax news agency.This solar maximum, will be less powerful than the previous one in 2000 and one of the weakest since 1928, the NOAA Space Weather Prediction Center predicted."In 2000 there were far more geomagnetic storms than expected in this and coming years.  And not only in quantity but also in power," said Sergey Gaydash, the head of Russia's Institute of Terrestrial Magnetism, Ionosphere and Radio Wave Propagation.Though weak, it can still pose threats to communication lines, with predictions that a strong solar storm could cause between $1 and 2 trillion in damages.The increased solar activity and following higher Geomagnetic Activity (GMA) could possibly have a significant influence on those suffering from heart attacks and cardiovascular diseases.The idea that the magnetic storms have an influence on health has been confirmed by the statistical and clinical studies, said Zaitsev.It will also way cause major fluctuations in the Sun's magnetic field, and an increase in the number of sunspots, coronal mass ejections, and solar flares, which often happen shortly after the peak.Experts suggest taking simple preventive measures during big flares – satellites should be put offline, power grids and communication networks be shielded against electromagnetic radiation.