Sochi looks to investment revival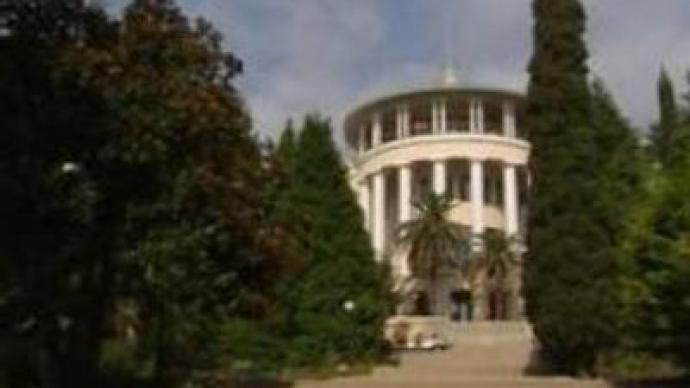 For decades, the Black Sea resort of Sochi was one of the summer playgrounds for thousands of Russians. Its buildings and infrastructure are sometimes looking a little worse for wear these days but there's a construction boom on the way as Sochi bids to
Sochi
was one of
Russia
's favourite resorts. And while its popularity endures, still, the buildings show signs of age. Most Soviet-era architectural masterpieces need repair. But the city is going through an investment boom, private construction mushrooming in the region. For most investors, it's easier to build a brand new building than to invest in an old, dilapidated structure. The health resort of Rodina was lucky. It was built in 1959 and during the eighties and nineties, it was abandoned, to operate no longer. The local administration put it up for rent and it re-opened three years later, named the Grand Hotel and Spa. The revamped accommodation already boasts some prominent guests, visitors such as Paco Rabane.The 1937 health resort
Ordzhonikidze
was a real "institution," taking guests from all over the
Soviet Union
. It is now a heartbreaking sight. The construction looks like concrete but is, in fact, wood, making renovation of the complex particularly difficult and expensive. Ceilings must be hand-painted every year to keep humidity at bay. In
Sochi
, this is usually 100 per cent. The 69-year-old construction is desperate for renovation and financial support. And it's not the only example.At the beginning of the nineties, the most grandiose construction in the south of
Russia
was the new international airport in
Sochi
. The giant building now looks like a monument to the collapse of the
Soviet Union
. Construction work has been frozen for almost 15 years. Once an ambitious project, it is now surrounded by a rusty fence, wild berries growing there. Recently, new investors showed interest, promising to restart work in November.A constant influx of tourists requires high-quality services and new infrastructure. Today, though,
Sochi
has further motivation for reconstruction, bidding for the Winter Olympics in 2014 and already making it into the finals. To bolster its chances,
Russia
's government has already introduced a federal programme for
Sochi
's development between 2006 and 2014.
You can share this story on social media: