Metadata monitoring more intrusive than eavesdropping - Snowden and Greenwald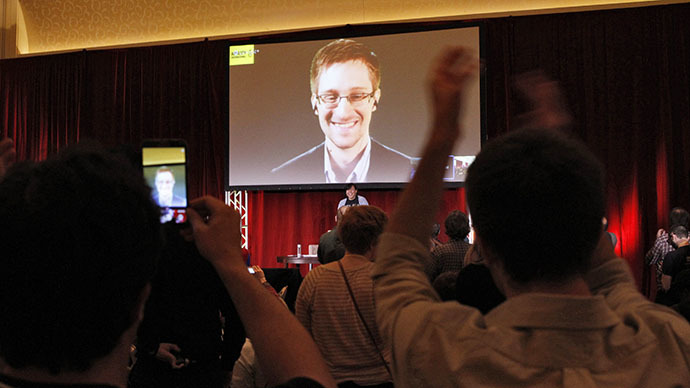 Whistleblower Edward Snowden and journalist Glenn Greenwald joined forces via video link at an Amnesty International event in the US to speak to a packed hotel ballroom about the dangers of government metadata collection.
Both Snowden and Greenwald stated that governmental collection of metadata – that is, monitoring timings of calls, to whom calls were made, and how long they lasted – is much more intrusive than listening in on calls directly.
"Metadata is what allows an actual enumerated understanding, a precise record of all the private activities in all of our lives. It shows our associations, our political affiliations and our actual activities," Snowden told the 1,000-strong crowd in Chicago.
Both Snowden and Greenwald received rounds of applause for their appearances, while Snowden's 'appearance' prompted a standing ovation.
The meeting marked their first appearance 'together' since Snowden was granted asylum by Russia, despite speaking from opposite ends of the globe – Greenwald made his comments from Brazil. The journalist, who published Snowden's revelations 10 months ago, vowed that there would be further releases of information to the public.
"My hope and my belief is that as we do more of that reporting and as people see the scope of the abuse as opposed to just the scope of the surveillance they will start to care more," Greenwald said. "Mark my words. Put stars by it and in two months or so come back and tell me if I didn't make good on my word."
Amnesty International is undertaking a campaign to bring an end to mass US spying and has demanded that Congress take further action to exercise control over widespread data hoarding.
Concern over the practice spiked after Snowden, a former NSA contractor, released documents to the public on the extent of the NSA's internet and phone surveillance last June. He now faces arrest if he steps on US soil.
You can share this story on social media: