Edward should stay in Russia 'to tell the true story' – Snowden Sr.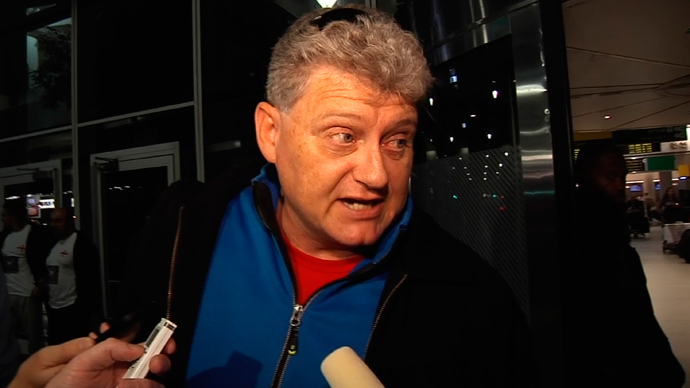 Snowden's father says his son has more secrets to share, and has advised the former NSA contractor to stay in Russia "to make sure the true story is told." The comment was made after Snowden Sr. returned to the US following a visit with his son in Russia.
Lon Snowden spoke at New York's John F. Kennedy International Airport on Wednesday after a week-long trip to visit his son in Russia for the very first time.

Former NSA contractor Edward Snowden rose to global prominence after a series of publications on mass surveillance by the US government and its allies began in May. The reports were largely based on leaked documents which Snowden handed over to journalists.

Lon told reporters at the airport that he advised his son to stay in Russia. "It's not necessarily what my son will do. He's comfortable. He's happy. And he's absolutely committed to what he has done."

The father added: "There's much more to be shared." And by staying in Russia the former NSA contractor will be able to "continue to push these issues forward, to make sure the true story is told."

Lon Snowden visited his son in Russia months after he was expected to do so. He has now been granted a multiple-entry visa and can enter and leave the country freely.

Edward Snowden was granted temporary asylum in Russia in August after he became stranded in the country due to the withdrawal of his American passport by US authorities. Washington is pushing for him to be handed over for trial on espionage charges and has pressured several countries which voiced their intention to harbor the fugitive. Moscow's decision is one of several points of contention between Russia and the US.

His whereabouts are being kept secret by Russian authorities.
"He's not a fugitive. He's a legal asylee of the Russian Federation and the press needs to get that right and I think our government understands that at this point," Snowden's father said.

Yet opinions about Snowden still vary. While the intelligence community and numerous politicians and officials regard Snowden as traitor, he is viewed as an idealistic whistleblower and defender of privacy by many people throughout the world. He has been nominated for several high profile human rights awards, including the Nobel Peace Prize and the European Sakharov Prize.

You can share this story on social media: