Hungary sends tanks to rescue thousands of people from snow trap (PHOTOS)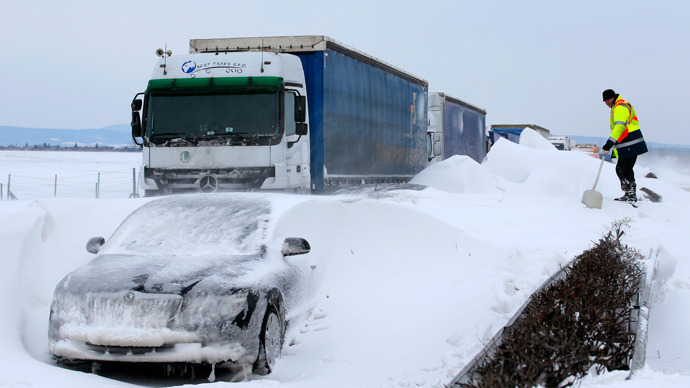 Thousands of people in Hungary found themselves trapped in heavy snow after a sudden cold snap and high winds swept over Eastern Europe. Budapest has deployed tanks to reach motorists trapped by the conditions.
The heavy dump has trapped people in cars, buses and trains as dozens of major roads across the country were blocked by the snowfall.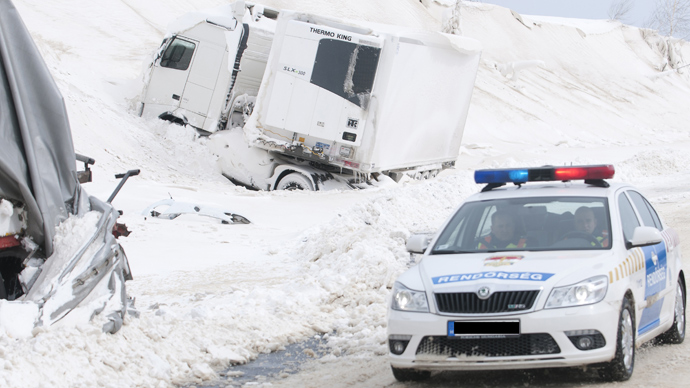 Tanks and other military vehicles with caterpillar tracks have been dispatched to rescue motorists as trucks jackknifed causing huge traffic jams on the main motorway that links Budapest and Vienna.

"The situation is most critical on the M1 motorway where hundreds of cars are stranded in the snow, most of them for 18-20 hours now," Reuters cites Marton Hajdu, spokesman for the National Directorate for Disaster Management.

Thousands of people have been forced to spend the night in their cars or roadside buildings after a snowstorm paralyzed traffic on the major Hungarian highway.

A Reuters photographer travelling with a rescue convoy said high winds had caused snowdrifts on the motorway up to a meter (3 feet) high.

Those who happened to be waiting out the snowstorm at home were left shivering as the electricity and heating went off. In total up to 100,000 of Hungarians have been suffering from cold in their apartments.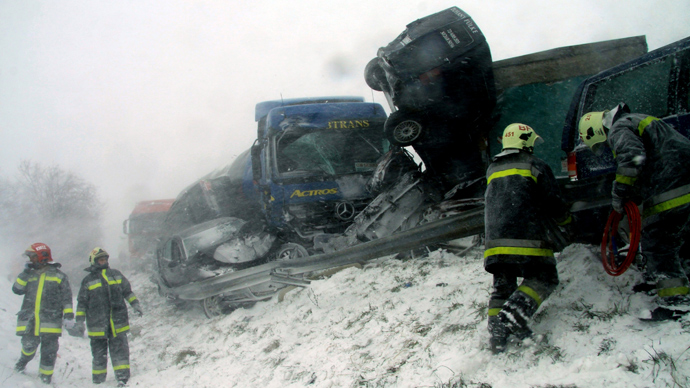 The weather conditions also forced the government and several opposition parties to cancel outdoor festivities and events planned for Friday's national holiday commemorating Hungary's 1848 revolution against the Habsburgs.

Neighboring Slovakia along with Bulgaria and parts of Serbia and Bosnia have also been facing foul weather.

In eastern Slovakia, some 40 trucks were trapped in snow on a highway in the High Tatras region. The army ordered the deployment of hundreds of soldiers to help out. Local authorities are warning citizens not to use cars. 

To avoid traffic jams in Poland authorities banned heavy trucks from entering the city of Rzeszow, fearing they could get stuck and gridlock roads.

In Bulgaria, a woman was killed when scaffolding collapsed in high winds in the central town of Gabrovo. In the southern town of Krichim a school was evacuated when wind tore off the roof.

Snow has caused travel chaos in other parts of Europe too, leaving scores of passengers stranded at airports, railway stations, and at sea.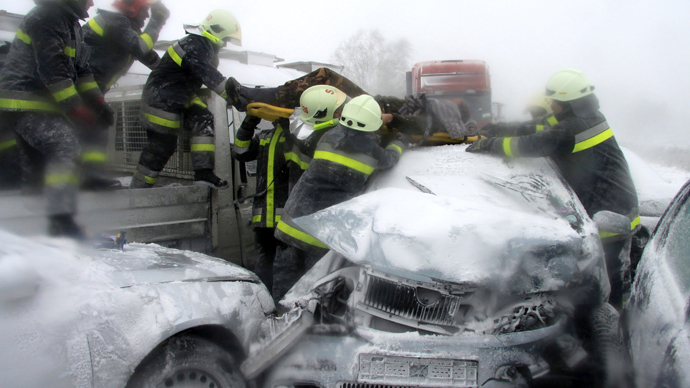 Frankfurt Airport - Europe's third busiest- has cancelled and delayed up to 100 flights of a scheduled 1,200 after the city saw about 12cm of snow.

Travellers going to France have also faced inconvenience with a quarter of flights out of Paris cancelled by the city's two main airports - Charles de Gaulle and Orly.

Some 80,000 homes in the north and northwest of France were without power, following snowfalls of up to 60cm.

The unseasonable snowfall comes little more than a week before spring officially starts in Europe.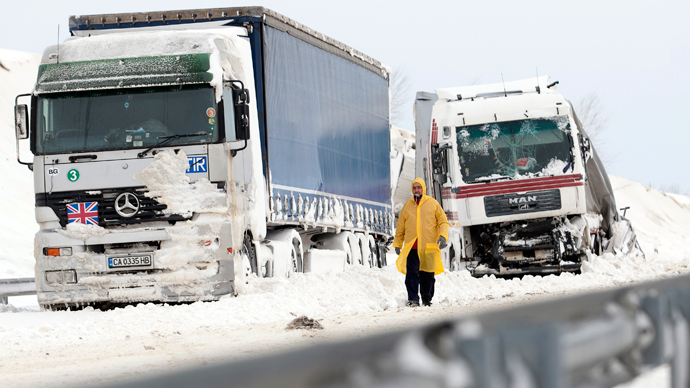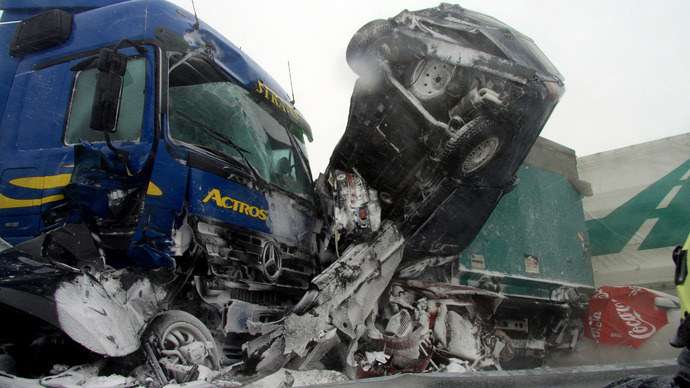 s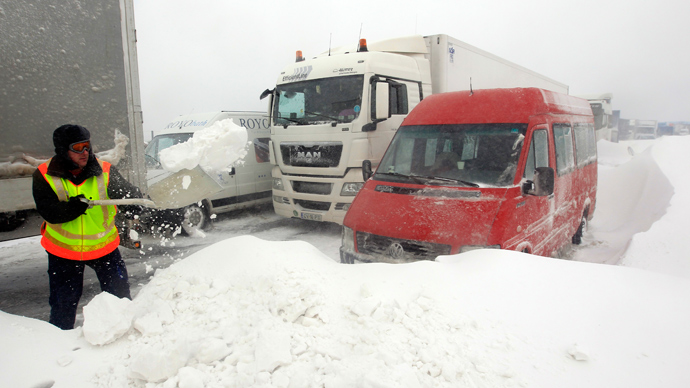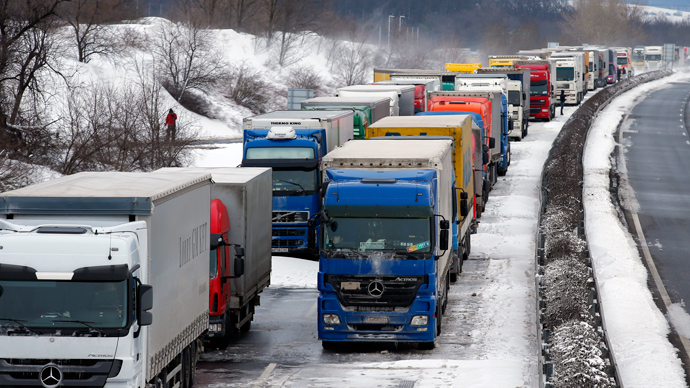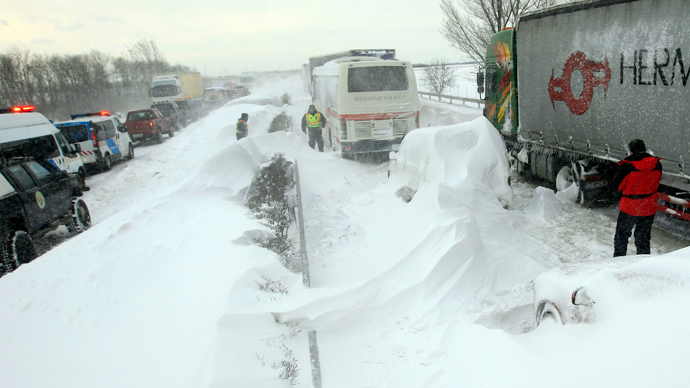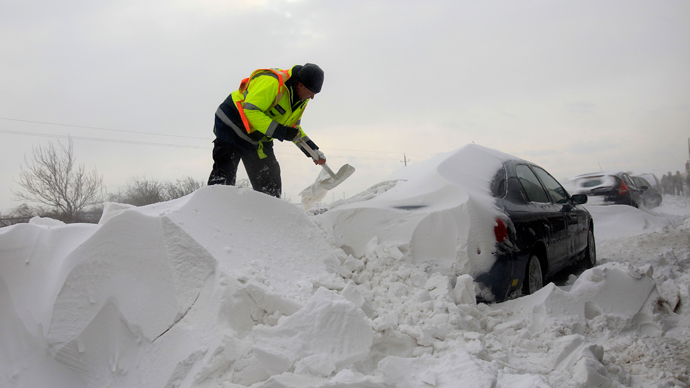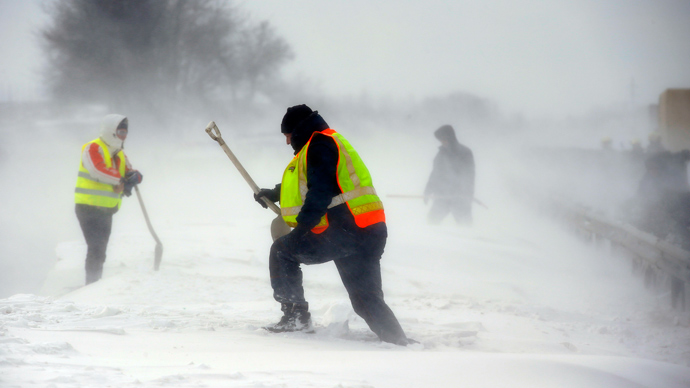 You can share this story on social media: