Smoking ban adopted in Hong Kong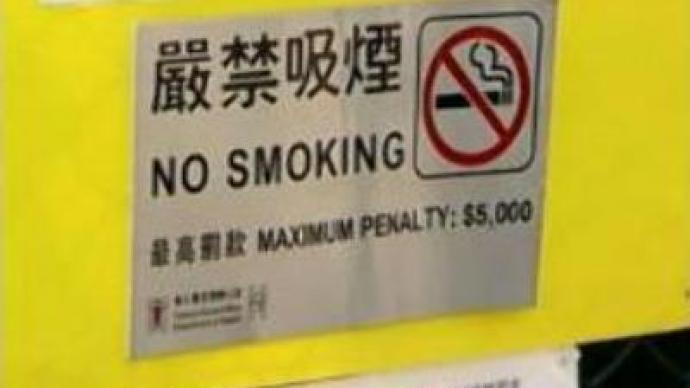 New Year's Eve was the last chance for smokers in Hong Kong to light up in public. It's joined the growing number of cities worldwide to ban smoking in most public areas.
Hong Kong's near blanket smoking ban outlaws the bad habit in offices, schools and universities, indoor markets, public beaches and swimming pools, as well as most bars and restaurants. Special signs are being made conspicuous throughout Hong Kong warning smokers that they are not welcome to light up in certain spots.Officials hope most public areas will become smoke-free with designated smoking areas becoming the norm. The Hong Kong Council on Smoking and Health says smoking kills 5,700 people every yearm, with about 14% of the city's 7-million population being smokers.The new law is among the most restrictive in Asia, and puts Hong Kong in a group that includes such places as Ireland and New York City.In 2007 similar restrictions will be introduced in Britain, Denmark, France and Iceland. Hong Kong was joined by Lithuania and Belgium in introducing its ban on New Year's Day.A large number of countries already have smoking bans with varying restrictions ranging from Bhutan's total ban on smoking and the purchase of tobacco, to Europe's indoor and occasionally outdoor smoking bans.In Russia smoking is not allowed in some restaurants, and in most offices special rooms are allocated for smokers, though smoking is generally not welcome in most indoor public places.
You can share this story on social media: