Sirius Star hijacking the 9/11 of international seaborne trade?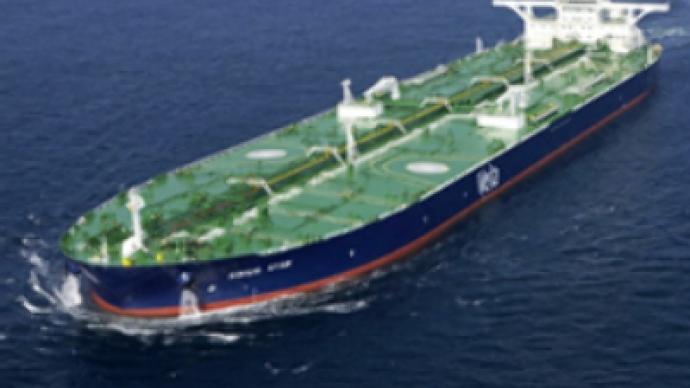 For years Somali pirates have been causing havoc in the Gulf of Aden, one of the world's busiest shipping lanes, which connects Europe to Asia via the Suez Canal. But on Monday Somali pirates surpassed themselves.
Over 300 metres long the Sirius Star is the largest ship ever seized by pirates. It was built in 2008 and is worth around 150 million dollars. In addition, the giant tanker's capacity is two million barrels, which is more than one-quarter of Saudi Arabia's daily output, so one may assume the oil cargo onboard Sirius Star is worth around 100 million dollars. Indeed, it is a king's ransom for pirates.
News of the attack made crude oil prices jump on global markets, but it's not only oil prices one should be concerned about.
Pirates boarded the Sirius Star roughly 400 miles off the Kenyan coast. This is another record achieved by Somali pirates, as before they didn't have the heart to travel that far from the coast. Before the recent attacks it was widely viewed that pirates operate only within 200 miles off the coast.
Maritime expert Mikhail Voitenko says the raid into the open sea is a dangerous sign. Now, piracy is no longer confined to a small area near Somalia, and armed groups can now capture large ships that do not need to find port regularly and can be held hostage in the open sea for a long time. This may lead to the spread of piracy into the Indian and eventually Atlantic oceans.
Piracy peril: is international trade next victim?
The recent increase in pirate attacks on ships is seriously threatening international seaborne trade.
Millions of tonnes of crude oil, petroleum products, gas and dry commodities like grain, iron ore and coal, as well as containers containing goods from hi-fis to toys are ferried through the Gulf of Aden and Suez Canal every month.
The situation has become so dire that major operators of the world's merchant fleet are now considering by-passing the Gulf of Aden and Suez Canal altogether. Industry experts say the alternative trade route, around South Africa's Cape of Good Hope, would add three weeks or more to a typical journey, pushing up costs for goods coming through the Suez Canal, primarily for dry commodities and cargo going from Asia to Europe.
Despite this, two well-known shipping firms, one that specialises in gas and the other the world's largest tug operator, Svitzer, are already routing their vessels via the Cape of Good Hope.
The insurance giant, Lloyd's of London, says that pirate ransoms are now running too high and risk "catastrophic loss", having skyrocketed from US $500,000 a year ago to millions of dollars. Consequently, insurance contributions have increased by 1000 percent in 2008 alone.
Worse than terrorism
International efforts to combat piracy are now being taken. The Gulf of Aden is patrolled by American and French warships. Last week, the European Union, in its first-ever naval mission, launched an operation off the coast of Somalia to combat growing piracy and protect ships carrying aid deliveries.
How pirates hijack
Pirates normally use mother ships to increase their reach. Heavily armed pirates pull up on either side of a target in speedboats. They then board, firing guns or even rocket-propelled grenades just over the bridge if the captain tries to escape.

Russia has pledged its full co-operation with the international community in fighting pirates. South Korea has also announced its plans to send a warship to the lawless waters off Somalia.
The Saudi foreign minister, Prince Saud al-Faisal, described the hijacking of the Sirius Star as an "outrageous act" and promised to support the European-led initiative to increase security off Africa's east coast.
Since the increased military presence at sea did not prevent the pirates from succeeding in their latest attack, some experts question the efficiency of such measures. The latest hijacking of a Hong Kong cargo vessel – the seventh successful seizure in 12 days – supports this view. The Delight, carrying 36,000 tonnes of wheat to Iran and with 25 crew on board, was captured off Yemen on Tuesday.
Experts say the roots of the problem are instability and poverty in Somalia.
International military presence in the region
NATO has recently sent extra warships to combat piracy in the region.
European Union countries have assigned seven ships, which will stay near Somalia until December.
Earlier, Russia announced it would cooperate with the West on fighting the pirates.

They also warn against the spreading of piracy in other countries and territories. The example of Somali pirates might inspire others – and then piracy would become a threat comparable to international terrorism. That is why some experts feel there is a need to urgently adopt a common international policy for combating pirates.
The Saudi foreign minister agrees.
"Piracy, like terrorism, is a disease which is against everybody, and everybody must address it together," Prince Saud al-Faisal said.
But the leaders of the Gulf of Aden and Suez Canal countries don't seem to be too concerned by the problem. On the contrary, on November 20 they meet in Cairo to discuss some countries' increasing military presence in the region, which "threatens the security of some Arab states". But there will be no talks on piracy.
You can share this story on social media: