'Free My Internet': Hundreds march in Singapore against website licensing regime (PHOTOS)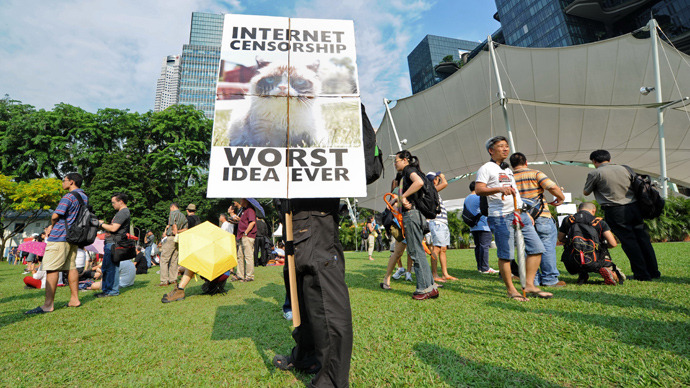 In Singapore, up to 2,000 activists lead by local bloggers staged a rally against recently introduced licensing rules for news websites, including breaches of "racial or religious harmony", which protesters see as an attack on freedom of expression.
A crowd with posters denouncing "internet censorship" gathered on Saturday in Speakers' Corner at Hong Lim Park to demand the withdrawal of the policy. The peaceful demonstration in the Southeast Asian city-state was organized by a group of bloggers called "Free My Internet."
The message of the gathering - "the government must trust us, and stop treating us like babies," said Choo Zheng Xi, the group's spokesperson. "It is an international embarrassment when governments around the world are working to deregulate the Internet, and Singapore, one of the wealthiest nations per capita, is going in the opposite direction," the activist told AFP.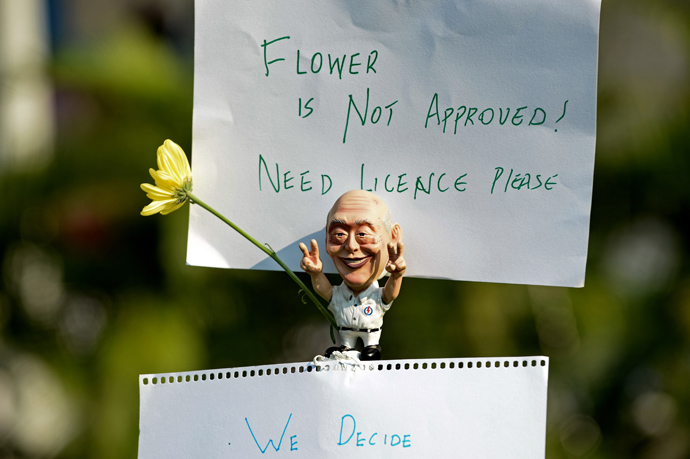 Under the rules that came into force in June, news websites must obtain annual licenses if they have over 50,000 unique visitors from Singapore every month and publish at least one weekly article on the island's news over a period of two months.
My dear government, what's next? A $50,000 license in order to upload pictures of my food on Instagram? #freemyinternet

— Lhu Wen Kai (@wenkai31) 8 июня 2013 г.
To get the license, they must pay about $39,500. Also, licensed sources will be subjected to government control and will have to remove banned content – such as articles that undermine "racial or religious harmony" – within 24 hours after they get a notification from Singapore's media regulator.
The new regulations have sparked fierce criticism among the city-state's internet community who accused the government of attempts to introduce online media censorship. Authorities, in response, assured web-users that their personal blogs and many news commentary website will not be affected.
According to Information Minister Yaacob Ibrahim, the websites that are required to get licenses will "have to conform to certain minimum standards as far as we are concerned, and we think it's not as onerous as what's been made up by some people online," he said earlier this week, as cited by AP.
The new regulation affects ten websites so far, including Yahoo! News in Singapore.
A day earlier, some 162 websites blacked out their content in protest against the licensing rules, Asia One reported.  Most of the sites replaced their homepages with a "Free My Internet" message on black screen and information on the Saturday rally.
Human Rights Watch also criticized the move in a statement on Friday, saying that the Singapore licensing policy "casts a chill over the city-state's robust and free-wheeling online communities," and will limit Singaporeans' access to independent media.
"Singapore is placing its status as a world-class financial center at clear risk by extending its record of draconian media censorship to the digital world," said Cynthia Wong, senior internet researcher at Human Rights Watch, as quoted by Reuters.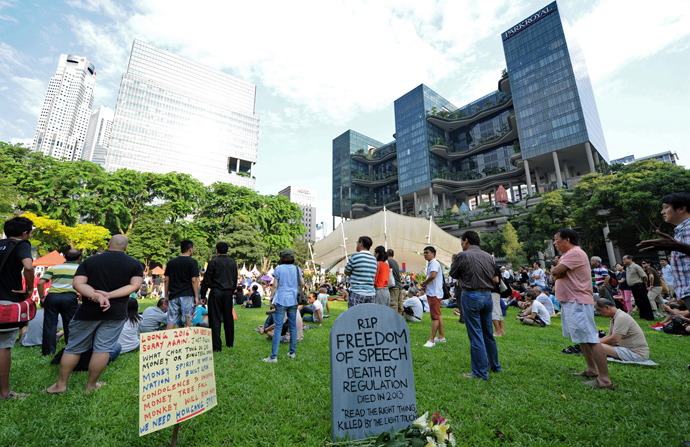 You can share this story on social media: