Key Soviet spy who headed KGB found shot dead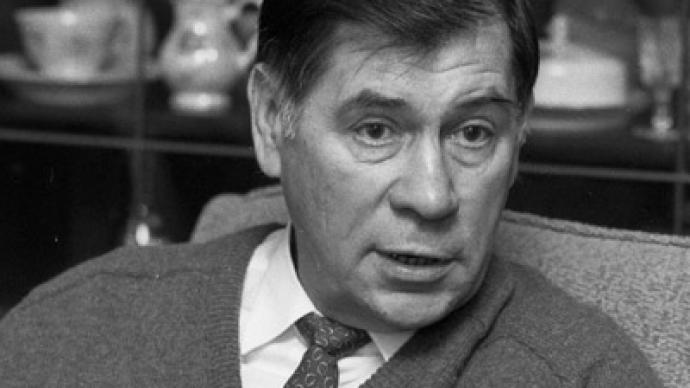 Leonid Shebarshin, a prominent Soviet spy who headed the KGB for one day in 1991, has apparently killed himself in his flat in Moscow. Shebarshin was also the last chief of Soviet foreign intelligence before the USSR fell apart.
The 77 year-old general's body was discovered by his daughter-in-law, along with a gun and a suicide note.Police suspect the retired spymaster shot himself in the head.News portal Lifenews says the suicide note was in fact a diary that detail the last moments of Shebarshin's life, and claims it has gained access to the document.Allegedly, the final entries read: "29 March 17.15 – the left eye stopped working. 19.00 I have gone completely blind."Shebarshin, who was widowed, had recently complained about his rapidly deteriorating health.His former colleague Lev Korolkov said the retired general was depressed."Those close to him say even three months ago he was sociable. But for the last month avoided contact, and seemed down about things when people spoke to him. It might have been depression, or a serious illness," Korolkov told RIA Novosti.
The last Soviet spy
Shebarshin was educated as a translator in several Eastern languages, but was transferred to the foreign intelligence service after working in the Soviet embassy in Pakistan.From then on his career saw a meteoric rise.An early internal memo notes his success in recruiting new agents, and by 1975 he was appointed the Resident – the chief spy – in India. As the Soviet Union and the West battled to influence socialist but democratic India, this was a key post.Shebarshin's next assignment was Iran, where he was sent following 1979's Islamic Revolution.This was undoubtedly the most challenging period of Shebarshin's career. Not only were the Soviets operating in a hostile regime, but a defection by a top Soviet agent in 1982 exposed large parts of the Soviet spy network in the country.Shebarshin and 17 other agents were expelled from Iran, and the leadership of the Communist Party of Iran was revealed to consist entirely of agents working for the Soviets. The party was dismantled and its members were jailed or executed.Despite the humiliating failure in Iran, the Soviet leadership stood by Shebarshin, and within five years he became the head of the First Directorate – the KGB's foreign intelligence arm.As the Soviet Union began to near its end, and Cold War certainties began to melt away, Shebarshin resolutely continued to unroll and coordinate spy networks in Western countries, which the USSR could no longer be sure were its enemies.Shebarshin's intelligence career came to an end as the KGB itself ceased to exist.When hardline Communist leaders launched a coup against reformist President Mikhail Gorbachev, Shebarshin made a show of his neutrality, spending his time playing tennis at his dacha.Once it was clear that the hardliners had lost, Shebarshin became nominal head of the KGB for one day. But as a member of the old guard, he knew there would be no place for him in the reformed security services. He resigned in September 1991.Like many retired agents, Shebarshin started a private security company involved in due diligence.More so than during his working life, Shebarshin also became a respected if somewhat embittered public figure. He often appeared on TV to comment on Middle Eastern politics, and released several popular memoirs detailing his espionage exploits and lamenting the end of the Soviet Union.
You can share this story on social media: