Israeli police to investigate 'expressions of joy' at Sharon's death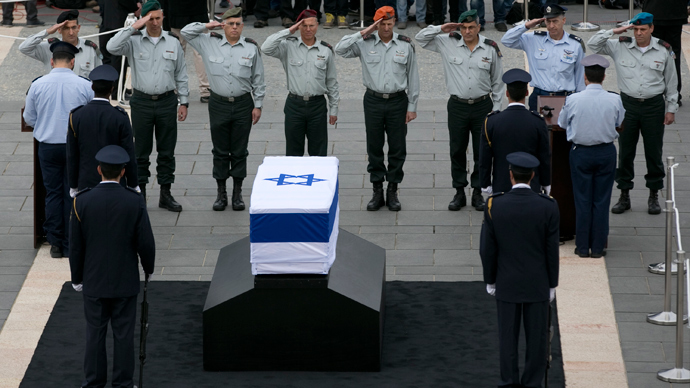 The Israeli Public Security Minister Yitzhak Aharonovitch instructed police on Sunday to probe public placards that have appeared proclaiming satisfaction and even joy at the death on Saturday of former Prime Minister Ariel Sharon.
The notices were posted in several Yeshivas or religious academies after Sharon's death Saturday.
A message which appeared at the Torat HaChaim yeshiva in central Israel, which was evacuated from a Gaza settlement following Sharon's orders to pull out, read: "A hearty mazal tov to Ariel Sharon upon his demise," the Times of Israel reported. 'Mazal Tov' is a Jewish congratulation at birthdays and other significant events.
Police have said that they will set up a team alongside representatives from the State Attorney's Office and the Attorney General's Office and will decide upon further legal action where appropriate.
"This conduct is contemptible and I will not stand for it. I view such criminal actions very severely and I have asked police officials to handle the issue swiftly and professionally," Aharonovitch said in a statement.
However, Israeli law guarantees freedom of speech and aside from cases of incitement to violence, it is not clear if there would be any legal grounds for such an investigation.
Sharon was a controversial leader and his character and particular his policies gained him as many friends as enemies. In his earlier years he was a decorated war general and championed Israeli settlement building. But later in his life he had an ideological about-turn and decided to evacuate the Gaza Strip, as well as several Israeli settlements in the West Bank.
Thousands of people have paid their last respects to Sharon as his body lay in state outside the Israeli parliament.
Sharon died Saturday at the age of 85, having been in a coma from a stroke he suffered in 2006, when he was at the pinnacle of his political power.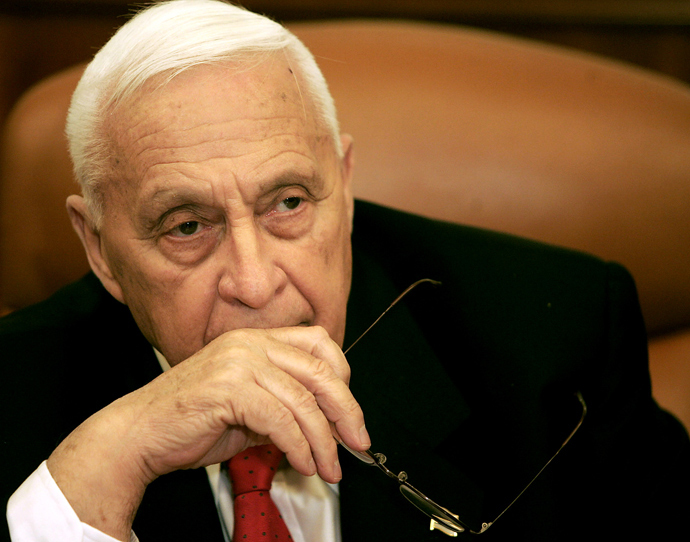 The Israeli president, Shimon Peres, said that Sharon "was an outstanding man and an exceptional commander who moved his people and loved them. And the people also loved him."
But the reaction was quite different from Hamas, the Palestinian movement that runs Gaza.
"We deal with the death of Sharon as an end for the crimes he committed against the Palestinian people," said Isra Almodallal, a spokesman for Hamas in Gaza.
MK Orit Struck from the nationalist-Orthodox Jewish Home Party symbolized the schism Sharon created in Jewish feeling with her comments on Facebook.
"The truth needs to be said," Struck wrote on her Facebook wall. "Sharon was one of the great builders of the land of Israel and one of its great destroyers. [It was] he who knew how to defeat terror and who turned all of southern Israel terror-stricken," she wrote in reference to the continuous rocket attacks from Gaza into southern Israeli since the Israeli withdrawal.
"We must also thank God for the fact that Sharon was taken from our public lives before he was able to bring to residents of Judea and Samaria the tragedy he brought to the residents of Gush Katif and around Gaza," she added.
Struck's comments immediately provoked uproar, and she was forced later to issue an apology disguised as a clarification.
"I didn't ask for him to get sick, I didn't hope his premiership would end that way and I have no happiness for the way his life ended." But she insisted that his death saved Israel from horrible decline.
The Israeli Justice Minister Tzipi Livni said Struck's remarks were a "disgusting incitement and embarrass the Knesset."
"This displays her lack of intelligence. She isn't reflecting what [Sharon] did, it shows she's evil," Livni told Army Radio.
"Until [Struck] and her ilk were elected to the Knesset, we said people like her are just stray weeds. I expect most settler leaders to come to the memorial and treat Sharon with respect, despite their different opinions," she added.
A state memorial ceremony for Sharon is planned for Monday, with world leaders including Joe Biden, the US vice president, and former British Prime Minister Tony Blair due to attend. There will then be a funeral procession, which will include a special meeting of the Israeli Defense Forces, which will end with a military funeral at Sharon's Shikmim Ranch.
You can share this story on social media: