Seven civilians killed by NATO airstrike on Tripoli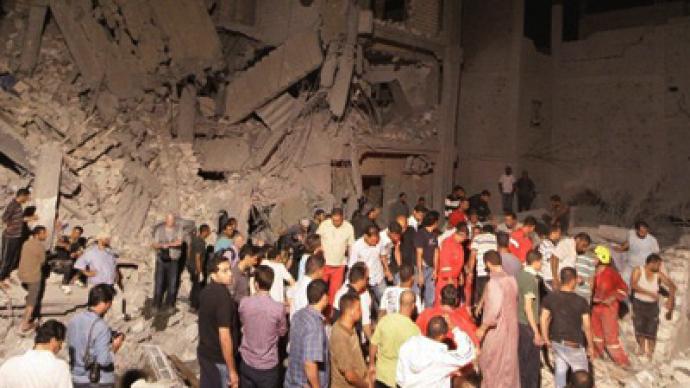 At least seven civilians in Libya have been killed by a NATO airstrike which hit a residential area overnight. The alliance admitted that one of its attacks hit the wrong target and may have caused deaths among civilians.
In the middle of the night, Tripoli's Souk al-Juma district was woken up by a blast, when a bomb, or several bombs, landed in this residential area. Several three-story buildings have been destroyed as a result. According to initial reports, four families – 12 to 14 people – resided there, and at least seven inhabitants have been killed, while some are still missing.The rescue operation began right away, in the middle of the night, but people on the ground fear there is little hope of anyone being alive under the rubble.Buildings on the opposite side of the street have also been partially damaged, while nobody has been hurt there.A spokesman for the Libyan government, Dr. Moussa Ibrahim, arrived at the scene shortly after the incident. He said the area was hit by a NATO strike."They were attacked by rockets from the sky. People were killed, children," he told RT. "With my own hands, with my own eyes I saw and helped take out little girls who were killed and little boys, the father and the mother. Two whole families perished under this attack.""You cannot justify this attack with anything. This is not the protection of civilians," Moussa Ibrahim added.Canadian Air Force Lieutenant General Charles Bouchard, Commander of the Libya Campaign, said the incident was caused by a weapon failure and that the alliance regrets the deaths."[NATO] takes great care in conducting strikes against a regime determined to use violence against its own citizens," he said.Earlier, the alliance confirmed it had mistakenly attacked rebel forces, but the number killed in that friendly-fire attack has not been established.The latest incident comes amid intense bombardment of Libya by the NATO forces. As RT's team reports from Tripoli, bombs are being dropped day and night and heavy explosions can be heard all the time.Russia, which has always been against the military means of settling the conflict, has sent a peace mediator Mikhail Margelov to Libya, in order to try to persuade the warring sides to start talking.After having spoken to representatives from both sides, Margelov said that everyone is ready for negotiations, but NATO should first stop the airstrikes. Tunisia has come up with a proposal to hold the talks on its soil.
You can share this story on social media: