Senlis Council suggests new approach to Afghanistan drug trade problem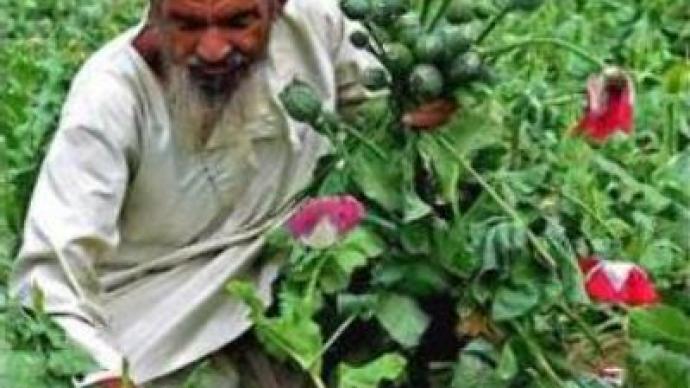 As Afghan illicit drug trade continues to grow, international governments are at loggerheads over how to deal with the problem. In February, the Senlis Council, an international policy think tank, held a symposium on Afghan Strategy.
As the new opium poppy harvesting season underway, the new ideas have been proposed by this international policy agency of how to work out the problem.The Council suggested overhauling completely anti-drug policy and licensing the poppy for much needed painkillers, to fill a global shortage of morphine and codeine.The Senlis Council President Norine MacDonald pointed out that the U.S. successfully applied this strategy in Turkey and India in the 60s."
We have spent a lot of time doing research in the village and actually talking to the farmers about how it could work in Afghanistan context. What they've suggested themselves is that the license is given to the community. They know very well how much land each farmer has, and therefore how much opium each man's land should produce. If any farmer allows his opium to be diverted for heroine use, everyone in the community will lose their license. And we think this is a very good idea for community level control,"
Ms MacDonald said.She believes Russia could and should play a significant role in tackling the Afghan Drug Cancer.Now, it is up to the U.S., NATO and Russia to decide whether to accept the Senlis proposal or not.Meantime, as NATO launched operation Achilles against the warlords and drug lords in Helmand, the province in the south-west of Afghanistan, the UN officials announced the 2007 opium poppy harvest would set a new record.The drug upsurge is expected in 15 provinces, including Helmand, the world's poppy basket and the hornet's nest of the Taliban, who use opium to fund their insurgency.
"It is clear that the insurgents are deriving an income, which they use to pay salaries for their foot soldiers, to buy weapons, to buy the services which are needed. All of this has created quite a cancer of insurgency and illicit drug cultivation, which has to be cut through forcefully in the years to come,"
Antonio Maria Costa, Executive Director of the United Nations Office on Drugs and Crime, or UNODC, said.Though the poppy eradication campaign has already begun in southern Afghanistan, there is one dissenting voice that opposes such tactics. They warned that spring would be 'make or break' in Afghanistan, as eradication this year sparked a new wave of violence."
With our own policies, we have created our own enemies,"
said Ms MacDonald, who has lived and worked in Afghanistan for the past two years.
"We are winning the battle, but we are losing the war. The international community has turned southern Afghanistan into a recruitment camp for the Taliban,"
she stated.
You can share this story on social media: