Hold it right there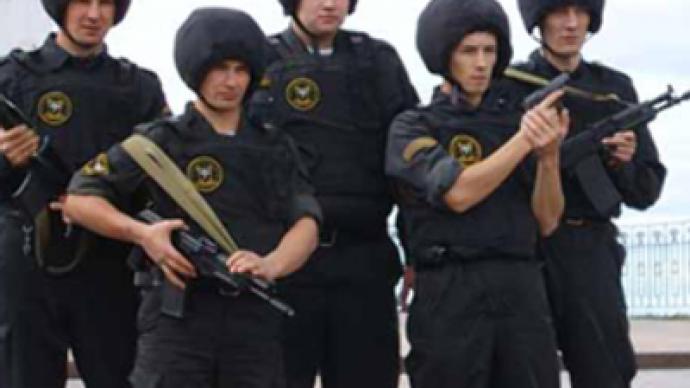 Amid the global economic crisis, the security guard industry remains a haven for those Russians not afraid of danger or boredom.
The Russian private security business has seen a number of cuts and layoffs in the last year. However, the workforce still accounts for up to 750,000 guards, making it one of the biggest in the country.
Aleksandr Mikhin, a spokesperson for a Moscow-based Alligator Security Company, which has been in business for 16 years, says companies have started reconsidering their contracts with security firms, trying to optimize their spending.
But security is usually the last thing businesses are ready to sacrifice. And in an economy such as this, increased concern about crime, vandalism and terrorism is forecast to raise the need for security.
That is exactly why you should consider joining "the force"…
Myths and reality
Being a security guard is a great job: lots of extra free time, relaxed hours, methodical, sometimes boring, involving little excitement, safe, fairly well-paid, a temporary step on the ladder to a better job. But how much of this is true?
It really depends upon your lifestyle and your aspirations. Before you come to any conclusions about whether this job is for you, you should first be well informed about what it is all about.
Who do you have to "kill" to get hired?
Nobody. As a matter of fact, you would probably be repelling possible intruders' attacks with your bare hands. In Russia, only a Category 6 security guard has the right to carry a gun. Getting a category rating, though, requires time and effort. To get a job, you don't need to know Kung Fu or have a Mr. Olympia's biceps – you can actually be hired off the street.
Of course you would have to go through numerous medical and background checks, as well as three months of training, before you can get your security guard ID.
The head of the Bayard security guard school, Andrey Nozdrachev, noted: "In 2010, the fee for a course of study will amount to $140. That's to become a Category 4 or 5 guard. But getting Category 6 will cost students twice as much."
Previous military experience may come as a plus, but it is not a must.
Andrey Peleshok has been in the business since 2003. A former junior military officer, he has been through intensive training. He is quite happy working for a private security firm with a wide range of customers, some of them from state-owned industries. And that means a more stable job and timely pay.
"I work a one-day shift, followed by three days off," he said. "And I get to spend time with my family."
As of 2009, security guard is officially recognized as a profession by Russian Ministry for Health and Social Development. And that is something that makes the trade look even more attractive.
US SECURITY GUARDS:
Current workforce: over 1,000,000. Average pay: $8.95 per hour
UK SECURITY GUARDS:
Current licensable workforce: 150,000. Average pay: £9.70 ($15.70) per hour
RUSSIAN SECURITY GUARDS:
Current workforce: around 750,000. Average pay: $3.50 per hour
Easy money?
…Hardly so. For example, being a security guard at a Russian jewelry store might be both a challenging and a dangerous choice. Attacks have been on the rise. And the robbers have been very inventive.
In August 2009, a security guard oversaw a group of men dressed in scrubs who entered a jewelry store in the east of Moscow. The "MDs" pulled out guns and started snatching luxury display items. Who could have seen that coming? The robbers got away without a shot and the security guard was probably fired.
However, gem dealerships are not the only spots out there requiring protection.
In May 2009, in the city of Samara, nearly 1,000 kilometers south-east of Moscow, a local taxi service headquarters was attacked at four in the morning. One guard was killed and another one was wounded in a shootout. The robbers fled empty-handed.
Guards often put their lives on the line to protect companies' property. But sometimes a threat comes from where it is least expected.
In November 2009, police detained suspects in a robbery case in which nearly 20 million rubles (almost $700,000) was stolen from the safe of a Moscow tobacco company. A guard at the company was among those detained.
Aleksandr Mikhin says his security company has its own internal security department. And they constantly run checks on every employee to avert any possible inside jobs.
Men vs. women power
…This might be a man's world, but women comprise 30 percent of the profession. They mostly operate surveillance cameras and work as part of fire safety teams, but you might also see them at schools or at the mall. Women add a different dimension to the profession.
"Women are more scrupulous, dedicated and it's very often that they outsmart men," said Sergey Saminsky, the head of Stark Group security firm.
In November 2009, three unknown men wearing masks broke into a jewelry store in the southern city of Ufa, 1,357 kilometers from Moscow. The female guard had neither a gun nor baton, but she managed to hit the alarm button and lock the robbers in the showroom. Had the police arrived two minutes earlier, they would have seized the thugs. But the security guard had to open the door and let them go, as they were threatening shoppers and staff with knives.
Hold it right there
"Detect, deter, observe and report" – that is the motto of every private security agency. The primary duties of a guard include prevention of crime, performing access control and site patrol.
As macho a job as it may sound, you have to keep reminding yourself that you are not a cop. And this means no cool police car sirens, no binding oath and no Hollywood-style drama.
Bad example: The hero of a recent flick "Observe and Report" takes the case of a mall flasher far beyond his responsibilities as a security guard.
TV, or not TV
There's a common belief that security guards are about the only people who have seen every movie, sitcom and newscast on Earth. Long hours on duty in front of a monitor may lead you to believe it is true. But as Anatoly Morozov, the Deputy Security Head at one of Moscow's security firms says, the monitors are only there to broadcast pictures from the surveillance cameras installed in the elevators, corridors and offices. And it takes special training and patience to be the viewer of that monotonous show.
A guard or a button
In the era of iPhones and nano-technology, it is hard to believe you need people to protect your property. And there is an alternative: you can always get an alarm system installed at your office, bank or house.
But here is the bad news for the backers of artificial intelligence – there is no way the robbers are going to catch themselves.
An alarm system inevitably sends a message to a manned operating center, which in turn dispatches a security group comprised of human officers. Meaning that in the end it all comes down to people.
And that man or woman could well be you.
Vladimir Andrianov, RT
You can share this story on social media: