Security conference in Baghdad constructive and positive: Iraqi FM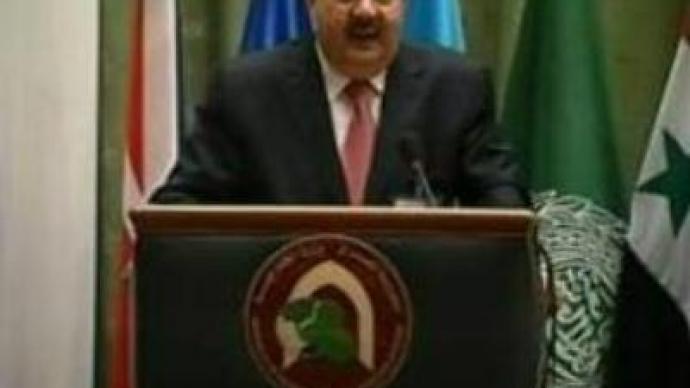 Iraq's Foreign Minister, Hoshiyar Zebari, says a meeting of regional countries and world powers in Baghdad has been positive and achieved good results. This includes the setting up of committees on security, refugees and fuel and power.
On the contrary, quite a few observers expressed their scepticism concerning a possible outcome of the conference.Ahmad Jamil, a reporter for Russia Today's Arabic Channel, Rusiya Al-Yaum, said most people in Baghdad do not expect today's peace conference to bring an end to the bloodshed.Furthermore, the former Iraqi ambassador to Russia, Abbas Halaf, believes Iraq has turned into a testing ground for world leaders to settle other issues.
"The problem is that Iraq has turned into a kind of training ground or arena to settle a number of issues such as the Middle East issue, the Lebanon issue, the Syria issue. Every side wants to solve their own problems, not in their own country, but in Iraq, which has, as I've already mentioned, turned into a test ground for settling these problems. That is why we should not expect much from this conference, we should not hope for a positive outcome of this conference. Within two days, neither the problems of Iraq, nor the problems of the whole region will be settled, because the USA has created such a complicated situation in the region that the whole world suffers from this American military adventure, which the Bush administration is responsible for,"
stressed Mr Halaf.Iraq held the one-day conference to enlist support to end the escalating violence in the country. It was also a rare opportunity for officials from Washington and Tehran to meet at a time of growing tension over Iran's nuclear ambitions.Mr Zebari said the two sides did engage in talks during the meeting, but they focused on Iraq's security and stability and no other political agenda.Meantime, the meeting took place amid more violence across Iraq.Authorities said a car bomb explosion in Sadr City has killed at least 20 people.Elsewhere, two blasts struck near to where world leaders met in Baghdad earlier for the international security conference.This violence came as the Iraqi Prime Minister Nouri al-Maliki has urged countries at the international security conference to help stop the conflict in Iraq.However, he warned them not to interfere in Iraq's internal affairs or use Iraq to play out their differences.Mr Al-Maliki said national reconciliation was crucial to saving his country, calling for a unified stance on Iraq which is not based on regional or social links.For his part, the U.S Ambassador in the country urged Iraq's neighbours and other world powers to do more to help Iraq's transition and stop the flow of fighters, weapons and what he called sectarian propaganda.The meeting also focused on the role Syria and Iran can play in establishing peace and security in Iraq. Both demand the withdrawal of the multi-national force from the country.By and large, the one-day conference brought together officials from the permanent UN Security Council members – the United States, Russia, China, Britain and France – and Arab countries. 16 separate delegations will be attending in total.Russia is represented by its Ambassador in the country, Vladimir Chanov.Russian diplomats consider participation in the Baghdad conference an important step towards improving the situation in Iraq.
"We don't consider such a gathering in Baghdad as aimed solely on security purposes. From our point of view, it's impossible to solve the Iraqi crisis without a comprehensive approach, which means that all aspects should be settled altogether. Of course, the main issue is the political one. We believe the international community must help Iraqis to find a way towards national reconciliation. This should be done through involvement of all political parties of the country and a political dialogue, putting above all considerations only one – the national interests of the Iraqi people and the state of Iraq. No doubt, the security issue is very important but you can't settle it separately from the first one and from the third one – the economy. That's why we think that during this gathering the parties should concentrate on all of the three issues,"
Aleksandr Saltanov, Russia's Deputy Foreign Minister, said.
You can share this story on social media: