Showing some cheek: Naked swimming takes off in Britain
Published time: 8 Sep, 2012 22:13
Edited time: 9 Sep, 2012 12:37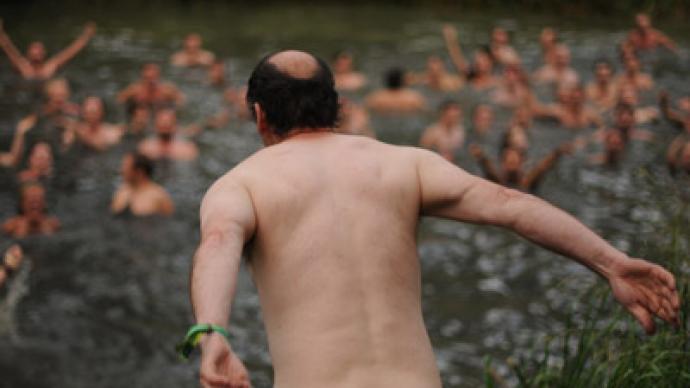 Naked swimming with total strangers may not be everybody's cup of tea, but this new trend is taking off fast in middle class Britain and is proving a much needed get away from the pressures of modern life.
The Secret Swimming Club is the brainchild of entrepreneur Fabian Riggall, 36, who also created Secret Cinema, and is open to anyone who fancies skinny-dipping in rivers, ponds and lakes.
The secret club was launched in August this year, at the Cornbury festival in Oxfordshire, where bathers attempted to break the word record for the largest group skinny dip.
"The swimming club is about breaking away from the formulaic, about going out on an adventure. Our lives are too organized, too regimented and going swimming in the wild with a group of like-minded people is liberating and exciting," Fabian told the UK newspaper the Daily Mail.
Those brave enough to get strip down needn't worry about any undercover policemen, as it's not an offence to bathe naked in England and Wales, as long as no one is left distressed, alarmed or outraged.
The secret swimming club has a decidedly middle class air, recent venues have included upmarket Wimbledon Common, just down the road from the world famous tennis courts and the Cornbury Park Estate in Oxfordshire, the home of Lord and Lady Rotherford.
It seems the Brits really are shedding their inhibitions.
"Until I started doing this, the only person who'd seen me naked in the last ten years was my husband. Soon you'll start to feel increasingly free and innocent. It's like a rebirth." Emma, a 35 year old mother-of-two from Kent told the Daily Mail.
Other swimmers were just as passionate. "Swimming with a like-minded group in this beautiful setting is liberating," said Anton a 41 year old architect from South London. While Katy, a secondary school teacher from York enthused, "I feel a bit more able to relate to other people. I wish I could bring my class down here and make them all go swimming naked together – I think a lot of the bullying would stop."
Photo from secretswimming.com
Photo from secretswimming.com
Photo from secretswimming.com