Scottish nationalists looking independence in the "ayes"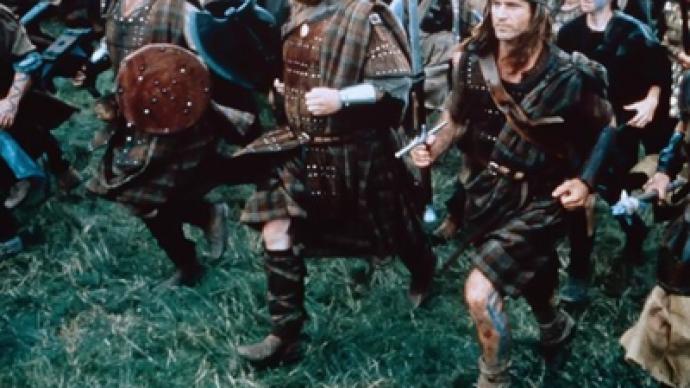 The starting pistol sounds in the race for independence for Scotland. The Scottish National Party now has a surprise majority in parliament, and they are hell bent on a referendum on breaking away from the United Kingdom.
­All this happens as Queen Elizabeth II offers her deepest sympathies to the victims of the troubled history between Britain and Ireland. She was speaking during her historic four day tour of the latter country.
It is the first trip by a British Monarch to Ireland in 100 years and is aimed at consolidating a calming of relations, though there were some clashes in Dublin between police and protesters angry at her presence.
The queen's trip to the Emerald Isle comes as Scotland considers following in Ireland's footsteps and breaking from the Union, after recent electoral success for supporters of independence.
"We'd gain control over our own resources, we'd take responsibility for the problems we face in our own country, and we'd be able to stand up and speak out on issues that matter to us," considers Kenny MacAskill, Justice Minister from the Scottish National Party. "So it's about taking charge at home, and making sure we have a voice abroad."
Revenues from oil and gas in the North Sea are worth an estimated US$21 billion to the UK treasury every year.
Scotland says the reserves are in their waters. It is hard to imagine the UK would let the oil fields go without a fight, particularly as Westminster would not be legally obliged to honor a "yes" vote from the Scottish people.
The Union Jack's days flying outside the Scottish parliament could be numbered. Scotland ditching the United Kingdom would mean the UK's treasury loses valuable oil and gas revenues. And it could be the inspiration for historically less-peaceful independence movements in Europe – such as the Basques in Spain and the Northern Irish – to follow suit and further destabilize an already-weak EU.
The SNP would support other European movements in their own struggles for independence, including Wales and Northern Ireland if they so choose.
"It's for the people of those countries to decide what they want to do. We would never support or condone violence in any shape or form, clearly if other countries wish to pursue an agenda they they'll get a great deal of sympathy from us as others do," Kenny MacAskill promises.
And even those who do not want the UK to break up say it is a sense of wanting to reclaim individual nationhood that drives the movement.
"This is an argument about identity. It's not whether we'd be richer or poorer. It's all about whether you feel, as I do, that we are Scottish and British, that we want to remain part of a union which, I think, has served Scotland well for over 300 years," says David McLetchie, conservative Member of the Scottish Parliament.
The Scottish National Party still has work to do if it wants Scotland to break away from the union. Even the most optimistic polls show only around 40 per cent of Scots would vote "yes". And on the streets of Edinburgh, people are divided.
Some say Scotland has not been receiving revenues from oil and gas extracted from its waters. Others say Scotland and Britain would not survive without each other. In any case, people say they need more information to make their decision and vote.
The SNP has time to bring the uncertain around to their side. It is putting off a referendum until the second half of its five-year government. It would be the beginning of a new era for Scotland, which has not been independent since 1707. But it has always retained a strong and distinct national identity, something the SNP will be playing on with all its might.
You can share this story on social media: