Saudi Arabia recalls ambassador to Egypt, closes embassy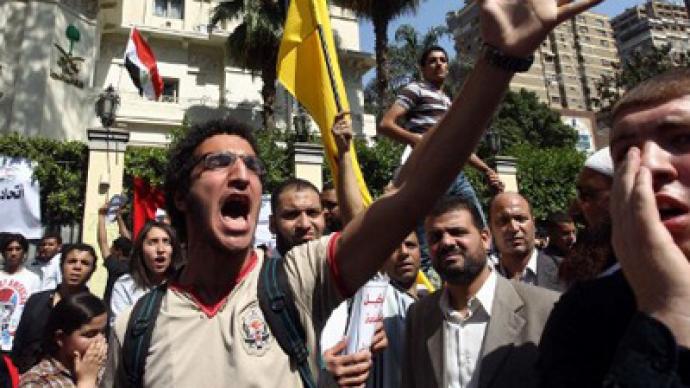 Saudi Arabia has recalled its ambassador to Egypt "for consultation" and temporarily closed its embassy and consulate in Cairo.
Saudi State media claims the move was prompted by "unjustified protests" in Egypt and attempts by demonstrators  to storm the Saudi Embassy and consulate that "threatened the safety of its employees."The protests were sparked after the prominent Egyptian human rights lawyer Ahmed el-Gezawi was detained in the Saudi city of Jeddah earlier this month.Saudi authorities accused Gezawi of smuggling drugs into the country, but the Egyptian demonstrators claim he was locked up for insulting King Abdullah.Hundreds of Egyptian protestors surrounded the Saudi Embassy in Cairo on Tuesday demanding Gezawi's "immediate" release. The Egypt-based  Arabic Network for Human Rights Information claims he was detained after being sentenced in absentia to one year in prison and 20 lashes for criticizing the Saudi government.The group also says Gizawi was targeted for his advocacy of Egyptian detainees in Saudi prisons. Gizawi has filed several cases in Egyptian courts against Saudi Arabia for arresting and allegedly torturing Egyptian nationals in the Kindgom.A Saudi Embassy statement disagrees, saying Gazawi has not been convicted or sentenced for any crime. Rather, it maintains he was detained at Jeddah airport after 20,000 anti-anxiety pills were allegedly found in his luggage.Gizawi's family claims that he and his wife had travelled to Saudi Arabia to perform the omra, a minor pilgrimage to Islam's holiest sites in Mecca and Medina.However, the Saudi statement further alleges Gazawi was not garbed in a pilgrim's clothes, a fact they say contradicts his family's claim he had entered the country to perform a religious rite.The religious circumstances surrounding his arrest have further infuriated Egyptians, prompting calls for the expulsion of the Saudi Ambassador following Gazawi's detention.Egyptian activists have long accused their government of turning a blind eye to systematic abuses committed against their citizens in Saudi Arabia. They claim Cairo is afraid to stand up to the wealthy and influential Saudi rulers.
You can share this story on social media: