Samara judge critical after murder attempt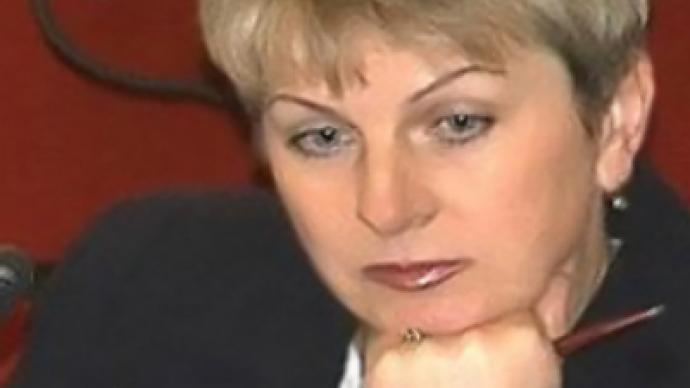 The chairman of Samara's regional court, Lubov Drozdova, is recovering in hospital after an assassination attempt. A gun attack on Tuesday left her seriously injured. Doctors report that she has regained consciousness after an operation but remains in a
Drozdova was shot with a small-calibre weapon while getting into a car not far from the city centre. Gunmen fired from a car parked nearby. Neither the weapon nor any ammunition has yet been recovered.
Police have launched a criminal investigation into the attempted murder, headed by the Public Prosecutor's Office.

Drozdova's house has since been equipped with CCTV cameras.
The head of the Investigative committee at the Public Prosecutor's Office in Samara, Vitaly Gorstkin, says police are blaming Drozdova's professional work for the attempt on her life.
Alexander Vazilov, a senior Doctor at Samara city hospital, said the court official's "life is out of danger. Her condition has not worsened, there is no bleeding".
But surgeons failed to remove a bullet from the woman's stomach and her condition remains grave.
Vazilov added that more "surgery is out of question" at the moment.
After a five-hour operation the patient was moved to intensive care, where she remains.
Lubov Drozdova has been a senior figure in the Samara region's legal and court system since 2000. In 2006 she was appointed head of the Samara regional court.
Drozdova's first deputy Nikolay Shabanov will replace her as chairman of the court for the time being.
Sources in Samara say Drozdova has been performing only administrative duties lately, not working with criminal or civic cases.
Political cases
Lubov Drozdova has judged a number of sensitive political cases, including claims against the regional election committee by Albert Makashov, a candidate to the State Parliament, and Victor Tarhov, a candidate for the post of Governor of Samara in 2000.
In 2001 Drozdova led the legal challenge to remove Georgy Limansky from the race for the post of Mayor of Samara.
She also heard the claim of the chairman of the municipal electoral committee, Sergey Nikologorsky, concerning the "illegal" budget for 2002.
Kommersant reported in 2006 that Lubov Drozdova tried the claim of the deputy of the Regional Government, Natalia Bobrova, in 2005, concerning the terms and dates of regional governor elections.
You can share this story on social media: