Porter steals Lombardi Trophy for Saints at Super Bowl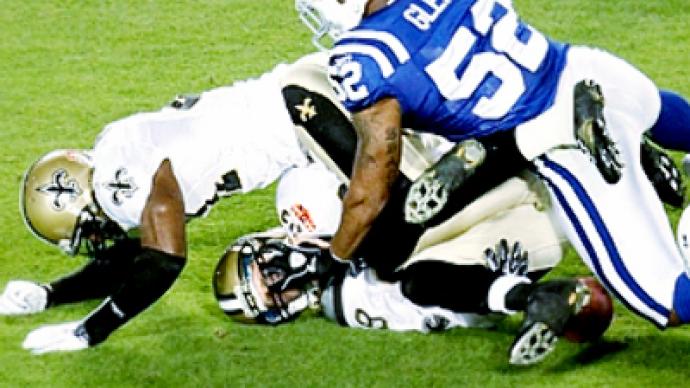 The New Orleans Saints have won the Lombardi Trophy for the first time in NFL history, beating the Indianapolis Colts 31-17 at the Sun Life Stadium.
Even though the Saints got first possession after the ceremonial coin flip, it was the Colts who took an early lead. Peyton Manning found Pierre Garcon in the endzone with a 19-yard touchdown pass and Garcon put Indianapolis up by 10 in the first.
The Colts were still ahead in the fourth quarter, before the Saints turned the tables with a short pass from Drew Brees to Jeremy Shockey and put them ahead 22-17.
Needing to score from two yards out, Brees threw the ball to Lance Moore. The official ruled it out, but the replay showed that Moore made the catch and two points were added, making it 24-17.
The match stayed tight and could have led to the first overtime in Super Bowl history, but three minutes before the end the game came to a head.
Peyton Manning, a four-time NFL MVP, made a poor throw to Reggie Wayne, who was trying to drive for the tying score. Tracy Porter had a huge interception return. He grabbed the ball and ran 74 yards for a touchdown.
It was the only turnover of the long awaited Super Bowl XLIV and one that settled the winner – a dramatic finish and a great final to remember.
You can share this story on social media: