Saakashvili may be put on trial in Russia, say prosecutors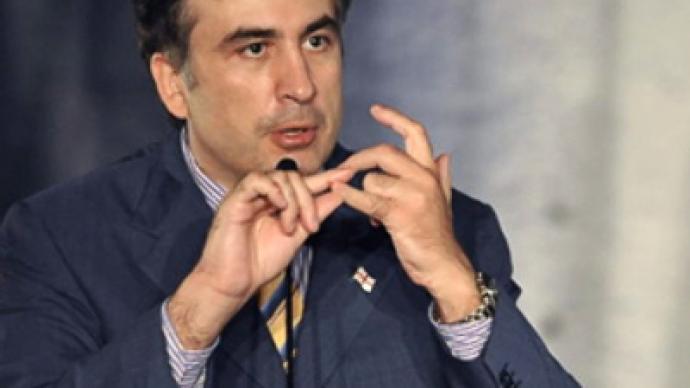 Russian investigators have launched a criminal case on charges of genocide in connection with the events in South Ossetia. Russia's Interfax news agency reports that the Russian General Prosecutor's Office has said Georg
Igor Komissarov, deputy chairman of the Prosecutor's Investigation Committee, said it had "initiated a genocide probe based on reports of actions committed by Georgian troops aimed at murdering Russian citizens, ethnic Ossetians, living in South Ossetia."
According to the latest figures, about 1,600 residents and 74 Russian peacekeepers have been killed as a result of Georgia's attack on South Ossetia.
Speaking at a joint media briefing with French President Nicholas Sarkozy, President Medvedev said double standards are inadmissible when evaluating the actions of politicians who are guilty of mass killings of civilians.
"The situation when one, who committed thousands of crimes, is characterised as a terrorist, and another as a president of a sovereign state, is very strange," he said.
Meanwhile, Marina Gridneva, a spokesperson for the General Prosecutor's Office, told Interfax that Russian law allows for foreign citizens to be brought to trial if they have committed a crime against Russia's interests.
She said that evidence of murder, following the attack of Georgian troops in South Ossetia, may be used as a basis for future charges against Saakashvili.
Aleksandr Torshin, Vice Speaker of the Russian Federation Council, said that Saakashvili and his closest allies must answer for their actions in front of an international tribunal.
But he said he is worried by some assumptions in the west that Mikhail Saakashvili is "inadequate and may be mentally ill."
"In such a case there will be no trial against him. He would get a certificate, a ward, and everything would be explained that he is nutty. I fear such a development of events, and I have an impression that this variant is being considered in the west," Torshin said.
You can share this story on social media: