Russia's main Christmas tree arrives at the Kremlin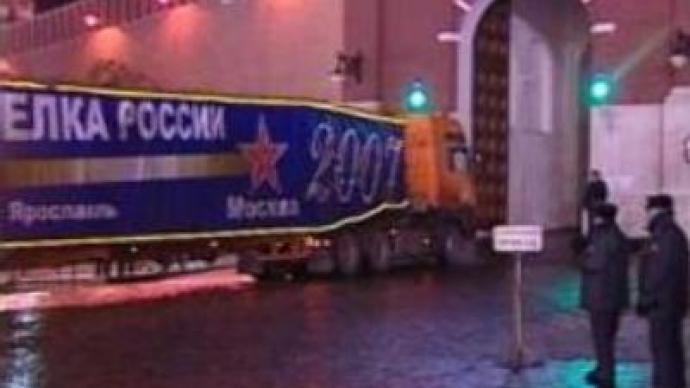 Russia's main Christmas tree has completed its 1,000-kilometre journey from the far north to the country's capital and made a grand entrance to the Kremlin. It covered over a thousand kilometres from Velikiy Ustyug to Moscow in 2 days.
Russia's main Christmas tree entered the Kremlin through the Spasskiy gates – fitting for an honourable guest. It is to become the brightest attraction of Russia's holiday season that has already filled the capital with lights and festive banners.A special engineering team spent weeks trying to figure out the best way of getting the tree to the Cathedral square.The tree was brought all the way from the town of Velikiy Ustyug, which, coincidentally, is also home of the Russian Santa Claus counterpart, Grandfather Frost.A special contest was held to determine the tree worthy of the honourable role, and the winner beat 10 others for an all-expenses-paid trip to Moscow. The 32-metre beauty was placed in a special wooden trailer for safe transportation to the Russian capital.Meanwhile, decorations for the spectacle have already been prepared. But they won't be seen until December 26, when the official lighting ceremony takes place.
You can share this story on social media: