Russia's grades on Freedom House report cats plunge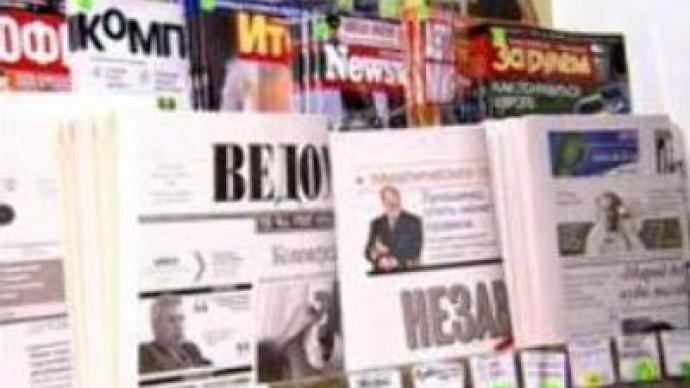 Freedom House, a U.S.-based freedom watchdog organisation is once again claiming that the Russian press is not free. In its latest report, the organisation has compared media freedom in Russia to that of Afghanistan and Venezuela.
The report cited new legislation, as well as physical violence and intimidation of journalists, as main threats to press freedom in Russia. As a result, the country took yet another plunge in the Freedom House ratings, coming in at number 165 out of 190.
Freedom House rejected RT's request for an interview citing its doubts about the channel's integrity.On its web site, Freedom House says it is dedicated to promoting press freedom everywhere. Still, pretty much like governments it criticises, the organization labels news media as either good or bad. Some would say that too is a way of oppressing press freedom. The year of 2006 was indeed a time of losses for Russian journalism. A number of media professionals were killed, including Anna Politkovskaya – a reporter for an opposition newspaper Novaya Gazeta. The investigation into her murder is yet to be completed.
"Crimes against journalists are investigated poorly – that is without any doubt. Culprits may be found from time to time but nobody tries to look for masterminds,"
says Boris Timoshenko from Glasnost Defense FoundationStill, while acknowledging problems, some journalists feel Freedom House has put Russia too far down the list. A well-known political commentator Nikolai Svanidze was one of the people who helped create new Russian media back in early 1990s. He says Freedom House reports have do not always correlate to reality.
"We do have our problems. And we have to be honest about that – not for the West, not for Freedom House, but for ourselves, for our own society. But I do believe that we were ranked too low. And I think next year they will put us even lower, regardless of what happens,"
Mr Svanidze believes.While Russia continues to be downgraded on press freedom, the number of media outlets in the country is on the rise. Quantity doesn't always translate into quality, just as freedom to press doesn't always mean press freedom.
You can share this story on social media: