Russian-U.S. relations to stabilise: Russia's Foreign Minister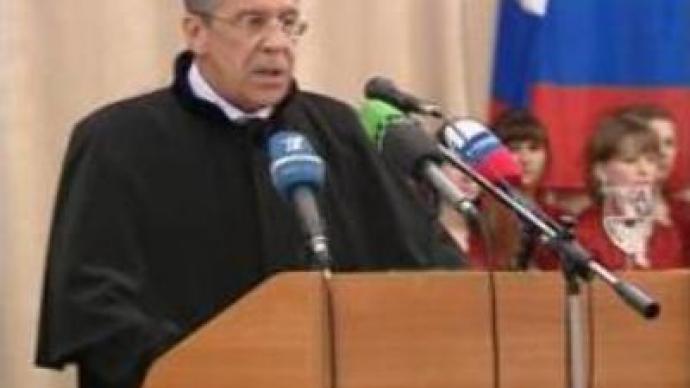 Russia's Foreign Minister Sergey Lavrov has said he hopes the Russian-U.S. relations will stabilise and become independent of 'political trends'. Mr Lavrov also stressed that no outside actions will pull Russia into a new Cold War.
Mr Lavrov's comments followed a meeting with the chairman of the U.S. House Committee on Foreign Affairs, Tom Lantos, in Moscow.Russia-USA relations were also touched upon by the Russian Foreign Minister during a visit to Moscow State Linguistics University. Sergey Lavrov spoke about Russia's political course, with emphasis on a recent speech by President Vladimir Putin in Munich. Mr Lavrov described it as an invitation for international dialogue to remove the 'heritage' of the Cold War.He believes relations between Russia and the West are strong enough for what he deemed a necessary, if unpleasant, discussion.
"We are seriously concerned with the U.S. plans of expanding Anti-Missile Defence bases in Europe. NATO's expansion plan is not boosting confidence either. It is happening without any regard to the reassurances we received earlier- and we are concerned about the alliance's infrastructure moving closer to Russian borders. But Russia will react in a balanced and composed manner to threats to our national security – and we will not allow ourselves to be pulled into a new confrontation or arms race,"
underscored Mr Lavrov.Furthermore, in an exclusive interview with Russia Today, former New York Mayor Ed Koch also said it is time for co-operation between the USA and Russia to get back on track.He added the two countries must work together on issues such as the fight against terrorism.
You can share this story on social media: