Russian TU-134 flight recorders analysis begins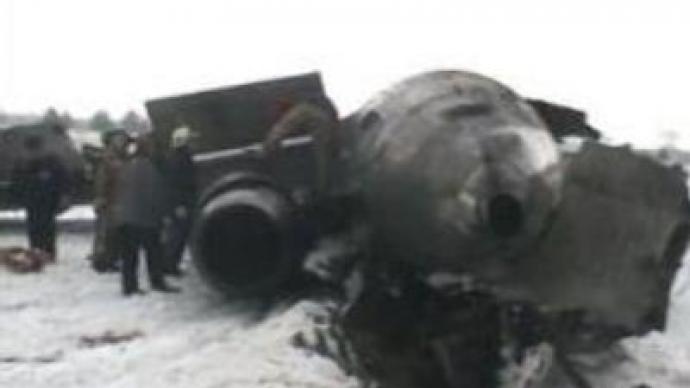 The first information from the flight recorders recovered from the Russian TU-134 aircraft that crashed on Saturday in the central Russian city of Samara will be revealed in the next couple of days.
The flight recorders, which contain technical information about the flight, may help to explain the reasons for the crash, which claimed six lives.The aircraft was carrying 53 passengers and crew to Samara, when it attempted to land in foggy weather.It hit the ground 400 meters from the runway. As the plane keeled over, one of the wings started to scrape on the ground, twisting back on itself and cutting the fuselage in half. This caused a fire on the plane.
"There was the noise of the landing gear coming down. But after that the strangest things started. I remember the land was not very close. We came into a mist and it was not clear whether we were climbing again into the cloud we have just passed or if it was the fog we saw, around the plane close to the airport. According to my personal feeling we were landing. We were waiting for the moment when we would touch down but before that crucial moment the plane made the landing, but it was a heavy landing and after that the fuselage smashed against the ground. Then we realized that it was an accident. They managed to open the second door. Thank God, the door opened,"
recalls Anatoly Ogurechnikov, one of the survivors.
"We should point out that the emergency service of the airport did their job very well. They were at the place of the accident within three minutes. The fire on board was extinguished immediately,"
said Boris Korol, Deputy Transport Minister. According to latest information, 25 people remain in hospital; there is no one left in serious condition. Seven more people are to be discharged from hospital on Monday. All of the bodies have already been identified by relatives. The UT Air, the company that owned the crashed plane, has promised to pay out compensation of $US 75,000 to the families of each of the deceased. It is the first time in Russia when a company announces that compensation will be paid before relatives of the victims ask for it. There are currently 30 investigators examining the site of the crash. Pilot error caused by poor visibility and problems with the plane's landing system are among the theories being considered. On Tuesday the debris of the TU-134 aircraft will be removed from the airfield for further examination. According to the UT Air reports, the crew won't be punished even if their fault is proved by the investigators.
You can share this story on social media: