Quest to impress: Social media thrill-seekers' high price for 'likes' (PHOTOS)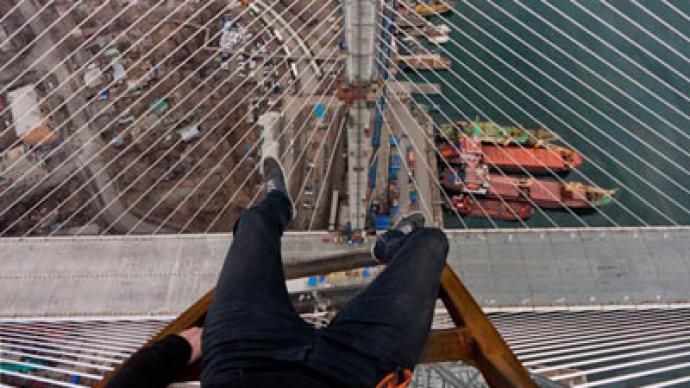 A Russian daredevil has died in front of his friend's eyes while trying to take an exciting picture on a railroad bridge in the Moscow Region. He was apparently influenced by the social media craze of posting extreme stunts online to impress peers.
The two 16-year-old friends, Slava Taranov and Albert Latypov, ignored "high voltage" danger signs and climbed several meters on to the railroad bridge to take pictures to post on Russia's most popular social network site VKontakte (In Contact) to astonish their friends.The teenagers thought the bridge was the most "appropriate place for stunning pictures", Latypov told LifeNews. However, the boys' escapade ended in horrific tragedy.
Slava Taranov (image from vk.com)"I asked him to leave. I had a bad feeling, like trouble was coming. But Slava said he wanted us to take a few more shots on the bridge and then we would go. I took another picture and suddenly Slava slipped and fell down on an unprotected wire. In that one instant the electric charge went through his body and he fell down on the train tracks."Slava Taranov was hit with 25,000 volts charge and then run over by a passing train, dying instantly. "I still can't get a hold of myself after this nightmare", said Latypov. "I yelled for help, but it was too late."Adrenaline fix and need to impressThis is just one of many recent examples of people risking their lives to improve their online status in today's social-media-dependent world.A new wave of daredevil deaths has swept Russia, but it does not seem to be discouraging adrenaline junkies. In late June, 26-year-old Russian blogger and photographer Mikhail Mosyagin died while trying to make his friends laugh with a stunt in the Moscow subway. He fell out of a moving train as he opened the door between two carriages and tried to hang out of the train.
Body of one of the 19-year old victims killed while train surfing in the Moscow Metro (image from kp.ru)Another tragic incident involved two university students who used to "train surf" in order to get their adrenaline fix. Train surfing is an extreme sport involving riding or climbing on the outside of a moving train. In the winter of 2011, Viktor Vartanian and Ivan Mikirtumov, both 19, died when they collided with a tunnel structure while train surfing on an outdoor section of the Moscow Metro.
Viktor Vartanian and Ivan Mikirtumov train surfing (image from kp.ru)In May of this year a 24-year old girl from St. Petersburg died while trying out the art of Parkour (leaping from building to building) by jumping from the roof of one building on to the peak of another 17-story building. However, despite these deaths and numerous of other examples, Russians seeking extreme homemade pictures and videos remain undeterred. More and more young people are performing deadly stunts, recording them on cameras, take pictures and brag about them by posting their efforts online.In August a fearless Russian woman filmed herself as she walked along concrete beam hundreds of feet above the ground. She used a head-mounted camera to film her stroll without any signs of safety equipment. The video was posted on sharing website LiveLeak and has been viewed more than 900,000 times.
Traffic flows on the roads below as the woman strolls along a narrow concrete beam hundreds of feet above the ground (image from liveleak.com)In June the group of daredevils dubbed "the craziest Russians yet" climbed an enormous crane to perform a vertigo-inducing exercise routine hundreds of feet in the sky. Terrifying video shows one of the climbers letting go completely as he performs a set of pull-ups dangling from a beam without any kind of safety harness.
Russian daredevils perform vertigo-inducing exercise routine on the beam of a crane hundreds of feet high (screenshot from YouTube user viralvidsnewandold)
Man performs pull-ups on the beam of a crane (screenshot from YouTube user viralvidsnewandold)
Man balances on a railing despite having absolutely no safety equipment (screenshot from YouTube user viralvidsnewandold)
Man stands on a ledge of a crane (screenshot from YouTube user MrFreemanable)Free climbing, Parkour, train surfing and other extreme activities have become very popular in Russia in recent years. The younger generation cites the need to impress their peers by posting "once in a lifetime" pictures and videos online in order to gain respect and higher social status. Unfortunately the punishment for train surfing and other free climbing activities is not high enough in Russia to discourage people from trying. Police occasionally detain suspects, but the maximum punishment they can get is a small fine. However, in practice train surfing is not punished with any penalty at all. Police simply tell the extremists to get out of the Metro. Even though thrill-seekers comply, at the end of the day they are simply off looking for another train to climb.