Russian team in female off-road rally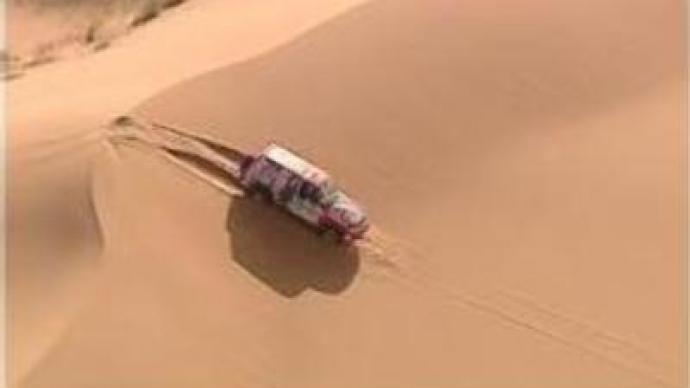 A team from Moscow has taken part in the world's only rally for women across the Moroccan desert. Eight days of adventure across Moroccan mountains deserts and dunes, and for Russian women it is the first time ever.
Off-road rallies are some of the toughest motor sport events in the world. Traditionally they've been a male preserve, but that's no more. It's the first time a Russian team's participated in the only all female rally in the world.The Gazelles Rally is both for amateurs and professionals but there's one golden rule: girls only.100 women from 14 different countries took part this year.
«18 years ago I was at a dinner for the Paris-Dakar rally and there were only men. I asked why there are only men. I decided I needed to create a race just for women. I realized that women wanted to have an adventure.»
recounts Dominique Serra, Gazelles Rally organizer.Elena and Elena are both from Moscow. A Maths professor as driver, and a businesswoman as a navigator. Both of them are also experienced rally drivers and adrenaline junkies.Contenders must cross about two-and-a half thousand km of Moroccan terrain in 4 by 4s, quads, buggies, motorcycles or trucks. Concentration is the key, this rally is all about navigation. There's no GPS, just a good old-fashioned map and compass. If you plot your route wrong you could end up lost in the desert. The winning team's the one that crosses from one checkpoint to another covering the shortest route. The girls only get to sleep about four hours a night in bivouacs.
"The first three days the French girls were usually late for breakfast as they were doing their makeup, fancy that! I wonder how they survived it"
laughs one of the Russian racers Elena Golubkina.It's expensive to participate in the rally. The entry fee's about 12,000 thousand euros per team and of course you've got to provide your own transport.When you've been driving all day on four hours sleep strange things can appear in the desert.
"Once we were caught in a terrible sand trap, both bumpers got stuck in the sand, the car itself was in a deep hole and we thought we would never get out. It was four kilometers from the hard surface. But somehow we got out, like to a miracle, and thanks to a Berber tribesman who appeared out of the blue and helped us,"
remembers Elena Golubkina Locals in the town of Essaouira – where the rally comes to an end – say although they're impressed with the girls' navigation skills, the nomads are still the kings of the desert.
You can share this story on social media: