Russian rookies prepare for tough 18 months ahead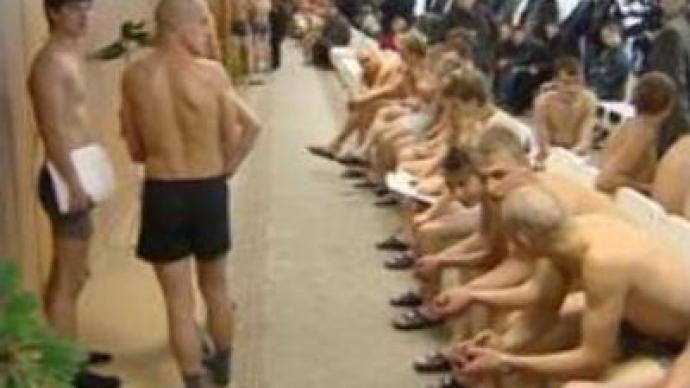 As Russia's annual spring military draft gets underway, thousands of young men are leaving home to prepare for 18 months of national service. If some are optimistic about their prospects, others, however, are afraid to serve.
From April 1, twenty-year-old Pavel Berov will be joining thousands of other young men as a new conscript in the Russian army – that means waking up at the crack of dawn and sharing his barrack room with nearly 100 new friends. So it is hardly surprising that Pavel is making the most of a few last home comforts, letting his friends and family make a fuss of him. He is about to face the most gruelling 18 months of his life and he will only be given one ten-day leave, to come back home and see them again. Despite the hardships ahead, Pasha has strong personal reasons for wanting to serve his country.
"My grandfather served in the war even though he was only 16. He fought through the whole campaign and I want him to be proud of me,"
says Pavel Berov. However, there is one aspect that he is really not looking forward to.
"The haircut! I'm really not looking forward to having a crew-cut because I hate short hair. At least the others will have one, too. We'll all be bald together!"
Pavel laughs. He has been preparing hard to get himself in shape and says he is not worried about what the army has in store for him.His friends, though, have some serious concerns.
"I know there are a lot of bad things that happen in the army. It's why I don't want him to go because I don't know what's going to become of him. I don't know what I'd do if he came back an invalid,"
says Aleksey, one of Pavel's friends.Indeed, Russia's military has been in the spotlight in recent months, with reports that conscripts are widely abused by their superiors. The story of Private Andrey Sychyov, who was so badly beaten that he had to have his legs and genitals amputated, made headlines around the world. Many young men attempt to dodge the draft, sometimes paying thousands of dollars in bribes to doctors or military officials to gain an exemption.The tendency has led top brass to complain that the bulk of the army is made up of drug addicts, ex-convicts and men of low intelligence, thus reducing its effectiveness and crushing morale. Generals, though, are now saying that they are on the way to turning the situation around.
"Today, we have an opportunity to hand-pick draftees. Also, we will focus on people with higher education. We will be more careful with drafting conscripts who have previously served prison terms,"
commented Colonel General Vasily Smirnov, Head of Military Draft in Moscow.Also, in compliance with the Defence Minister's orders, the representatives of Parents' Committees will be allowed to monitor the work of every local draft board.
You can share this story on social media: