Russian rare bird breeding centre saves endangered species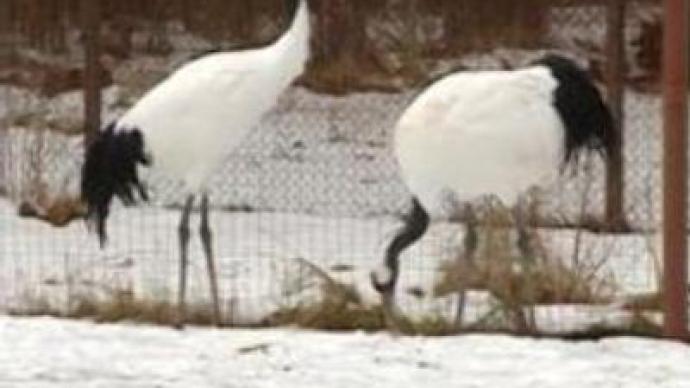 Crane Breeding Centre, part of the Oksky Nature Reserve in the Ryazan region 300 kilometres south of Moscow was opened in 1979 to preserve unique birds and restore the wild's population.
One of the 7 endangered species which lives here is the Siberian Crane, which remains a focus for the centre's activities. Others include the Japanese, Red-hooded and white-naped Crane. They all are under threat from extinction.
"The goal of our reserve was to create a territory, kind of like a mini population of Siberian Crane so that in future we could return the babies which are born here to the wild"
explains Kirill Postelnykh, a scientist working at the centre.
"This is our main purpose. Its also a kind of ecological education. In our reserve we have all seven kinds of species of crane native to Russia. We need to teach people, to teach them the right attitude towards nature and how to act towards Cranes."
And it hopefully wont take too long before people start to realise this. The centre attracts thousands of visitors all year round. Families can learn about the birds' history and even get a chance to feed them.Since 1991 more than 100 Siberian Cranes have been born in the centre here and released back into the wild. About 200 more eggs and chicks of other species have been given to other reserves to look after. But keeping track of the Cranes after they've been set free is a difficult task. A lack of money means workers cannot afford to use a digital monitoring system.But for the time being, what matters to the people here at the Oka Breeding Centre is that the population of endangered Cranes rises and keeps doing so in the future.
You can share this story on social media: