Russia insists on examining jailed Russian pilot in US prison after health complaints
Russia insists on carrying out a medical examination of Konstantin Yaroshenko, who is serving 20 years in a US prison, after he complained that authorities are ignoring his complains over a failing heart.
Yaroshenko must be fully examined by medical professionals from a Russian diplomatic facility, Foreign Minister Sergey Lavrov said on Monday. He added that the statements from the US officials, which say that Yaroshenko has no health problems, are not true.
Earlier Yaroshenko's lawyer said that his client has written a letter to Vladimir Putin to ask for his possible extradition back to Russia to have a chance to see his family.
"I beg you to go to the American side and personally to US President Barack Obama, with a request of my early transfer home. In Russia, I have a wife, daughter and 73-year-old mother, whom I had not seen for many years and who want to see at least one more time," Itar-Tass cites the letter, the text of which was drafted by Yaroshenko and his lawyer Aleksey Tarasov.
After meeting his client on Sunday, Tarasov told RT that Yaroshenko will see a doctor on Monday after chronically experiencing chest pain in a US prison.
"Konstantin was very suddenly summoned last night to the medical ward there at Fort Dix where a person told him that he should be prepared on Monday to travel out to a hospital away from the prison facility," Tarasov told RT. "The individual at the medical office told Yaroshenko that he should expect an ultrasound diagnosis, however it is unclear to this point whether any heart related analyses will take place."
On Friday, Moscow summoned an American diplomat to demand diplomatic and medical access Yaroshenko. In a statement issued, the Foreign Ministry asked the US side for a Russian doctor to examine the Russian pilot.

"The Russian side emphasized that the full responsibility for the life and health of our fellow citizen lies with the United States authorities," the Foreign Ministry said. "We have repeatedly drawn attention to the worsening of his chronic illnesses that resulted from the torture and abuse he suffered during his arrest."

On Saturday, Tarasov confirmed to RT that his client was not getting proper medical treatment.
"Why in Yaroshenko's case my client's repeated requests to the authorities to have medical treatment provided have not come tofruition is a big question for me," Tarasov said.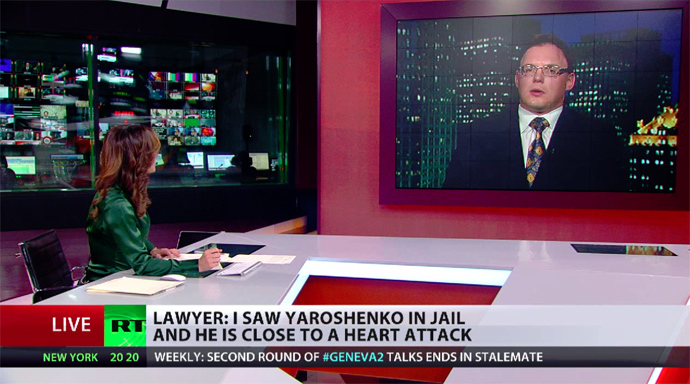 "As the American practice requires, he has repeatedly reported his health problems to the prison administration, unsuccessfully trying to get their permission for urgent medical aid," Tarasov told Itar-Tass earlier.

He once again highlighted that the most probable cause of his client's deteriorating health is the maltreatment Yaroshenko received since his arrest in 2010.
"Konstantin, whose health deteriorated dramatically after torture and humiliating treatment during the arrest, has been seeking urgent and qualified medical aid for at least the last two weeks. He has repeatedly filed written petitions about a sharp deterioration of health. But the prison administration did not respond," the lawyer said.

The Fort Dix prison administration asserts the "inmate was allegedly ignoring the rules failing to report his health problems," which is absolutely wrong, Yaroshenko's relatives told Tarasov.

"He complained about severe chest pain as if it were burning, very high blood pressure, weakness, and dizziness," Tarasov explained. "I contacted doctors who said those were the symptoms of a heart attack. They believe he will soon have a heart attack."

Following the pleas by the Russian Foreign Ministry, the US embassy said they had no right to discuss the case unless Yaroshenko signs a privacy waiver.

"The United States is committed to meeting its obligations under both international and domestic law for proper treatments of persons detained or incarcerated in the criminal justice system, including the provision of adequate medical care," a spokesman said as cited by Reuters.

Yaroshenko was abducted by American special agents in Liberia back in 2010 and forwarded to the US without notifying either the Russian authorities or the family. In September 2011, he was found guilty of conspiring to smuggle cocaine into the US and sentenced to 20 years behind bars.
'No access to urgent medical help'
Yaroshenko's wife Victoria confirmed to RT that her husband has been seeking medical attention on a regular basis since his arrest four years ago. She is "shocked" at the lack of medical treatment – even in critical cases – despite numerous requests.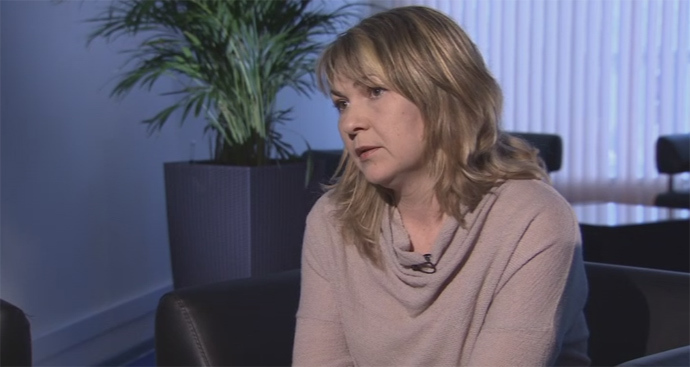 "Originally, his health began to deteriorate after the beatings" he endured for three days when he was "kidnapped" in Liberia, without presenting him or the family with any evidence of his crimes. She described her husband being interrogated to the point of exhaustion while sitting on a three-legged stool.

"They were beating me, I could not understand why are they beating me, what for?" Victoria recalls the words of her husband. "They did not explain to me why they were doing this to me. There were no charges. I was just abducted. At first I thought I was kidnapped by bandits."

Mrs. Yaroshenko says that his abduction in a third country before his transfer to the US violates "every international law" and shows unusual "cruelty", that her husband continues to endure while incarcerated.

She remains adamant that Yaroshenko is being discriminated against in prison.

"He is being discriminated against. He is being mentally destroyed," she told RT, citing the example that Yaroshenko's mail is not being delivered and that he is not being given access to urgent medical help.

"Others get medical attention," Yaroshenko said according to his wife. "They discriminate only against me."
You can share this story on social media: