Russian nationalists call for release of alleged political prisoners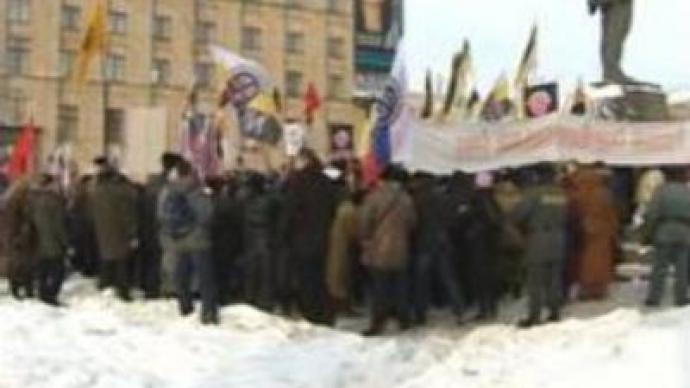 Several Russian nationalist movements have gathered in Moscow to call for the release of political prisoners. The rally participants have said that political motives were behind the prosecution.
The organisers have said they wanted to draw attention to the people, who they believed were being persecuted for political reasons.Among those the protesters were campaigning for – Russian servicemen accused of crimes in Chechnya, activists charged with inciting ethnic hatred and those facing charges related to the assassination attempt of Russia's electricity monopoly head Anatoly Chubais in 2005.
"Those who don't agree with the government's domestic policies of suppressing the opposition of any kind are prosecuted. Those who aren't satisfied are being called extremists,"
said Nikolay Kuryanovich, State Duma Deputy.Ahead of the rally the organisers were expecting about 500 people. Security was tight and the square was cordoned off. In the end only 200 turned up.But some human rights organisations believed the rally was being used as a platform to foster racist and xenophobic views.
"This is a yet another attempt to play upon xenophobic myths and stereotypes and protect people who are in no way political prisoners but are banal extremists,"
stressed Aleksandr Brod, Director of Moscow Human Rights Bureau.The rally may not have gathered thousands, but experts believe this may not always be the case in the future – the nationalist movements use events like this they say to recruit supporters.
"The nationalist movements will not take part in the parliamentary elections, in Russia they can't be registered, the authorities won't let them take part. What they do is gather strength – they hold rallies, they have their activists, they have their martyrs – like those accused of the attempted assassination of Anatoly Chubais,"
said Alexey Makarkin, an Analyst from the Centre of Political Technologies.
You can share this story on social media: